Rawcology Chocolate Superfood Coconut Chips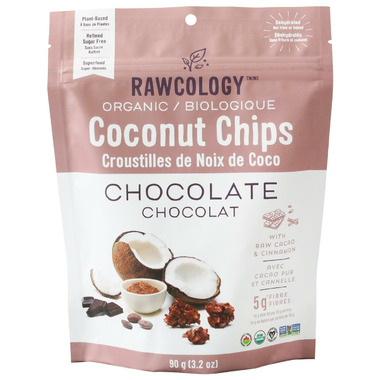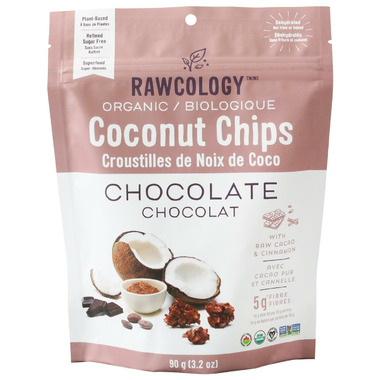 Rawcology Chocolate Superfood Coconut Chips
Coconut flakes coated in raw cacao, cinnamon, virgin coconut oil, and a touch of coconut nectar and pink Himalayan salt. Unlike cocoa, raw cacao is a pure, unprocessed and nutrient dense superfood that's rich in antioxidants, fiber and magnesium.
You can also feel good about superfood cinnamon, which is an antioxidant-rich spice that can have positive effects on blood sugar levels, digestion, and immunity. These chips are sweetened with coconut nectar, a raw and low glycemic-index sweetener that's rich in enzymes. All of their snacks are dehydrated at a low temperature to promote optimal nutrition and flavour.
Features:
Organic
Vegan
Raw
Paleo
Peanut Free
Tree Nut Free
Gluten Free
Dairy Free
Soy Free
Sugar Free
Non-GMO
Trans Fat Free
Cholesterol Free
School Approved Snack
Locally made in Canada

Ingredients:
Organic coconut flakes, organic raw cacao powder, organic coconut nectar, organic virgin coconut oil, organic ground cinnamon, pink Himalayan salt.
Allergen free.