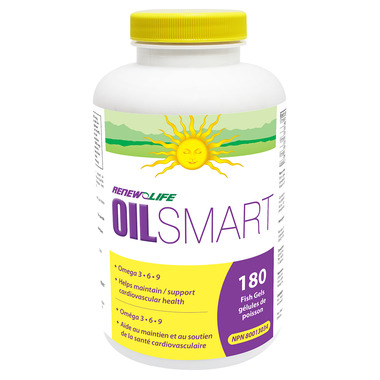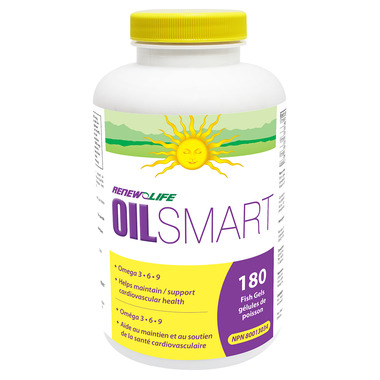 - Max: 1
- We're sorry, this product is no longer available!
- Shop for other products in: Fish Oil

Renew Life's OilSMART is a patented essential fatty acid supplement containing lipase. Lipase is a digestive enzyme, required by the body to break down fats and oils for maximum utilization within the body. OilSMART is formulated to supply the proper ratio of essential fatty acids. OilSMART consists of 3 types of nutritional oils: flax, borage, and fish, which contain the three types of EFAs that the body requires: Omega 3, 6, and 9.Essential fatty acids are called 'essential' because they are essential to life. The body cannot produce these oils, so they must be ingested from food sources. However, the main foods that provide EFAs are raw nuts and seeds, and cold water fish. Like water, you need EFAs daily in order to live.
As the average Canadian diet usually contains insufficient amounts of the foods listed above, it is vital to ensure adequate intake through supplementation.
Directions:
Adults: For the maintenance of good health: Take 1 capsule 3 times per day. For the maintenance of cardiovascular health: Take 1 capsule 6 times per day.

Ingredients:
Each capsule contains
Omega-3 Fatty Acids
Alpha Linolenic Acid (ALA) 165mg
Eicosapentaenoic Acid (EPA) 54mg
Docosahexaenoic Acid (DHA) 36mg
Omega-6 Fatty Acids
Linoleic Acid (LA) 156mg
Gamma Linolenic Acid (GLA) 60mg
Omega-9 Fatty Acids
Oleic Acid (OA) 135mg
Lipase (Triacylglycerol lipase, Rhizopus oryzae) 5mg / 33 FCC LU
Non-medicinal Ingredients:
Fish Gelatin Shell (fish gelatin, glycerin, purified water, caramel powder), lecithin (from sunflower seed oil), Vitamin E (d-alpha-tocopherol), beeswax
Contains no nuts, peanuts, sesame seeds, mustard seeds, wheat, gluten, yeast, corn, egg, dairy, crustaceans, shellfish, artificial colour or preservatives, binders or fillers.

Allergen Warning:
This product contains fish. Renew Life does not use genetically modified ingredients. All ingredients are NON-GMO / GMO-FREE.
Warning:
Consult a health care practitioner prior to use if you are taking blood thinners. Do not use if you are pregnant or breastfeeding. Keep out of reach of children. No Refrigeration Required. Store in a cool, dry place. OilSMART is tested to ensure it contains no heavy metals or other toxins. OilSMART exceeds EU and CRN testing requirements.
Natural, Gluten Free, Non GMO, Peanut Free, Nut Free