120 Enteric Coated Tablets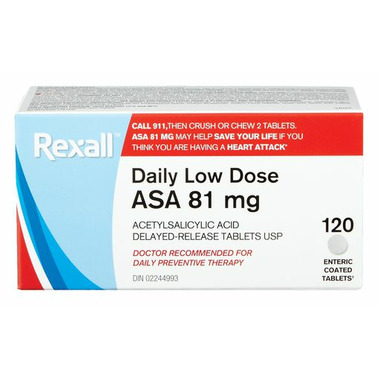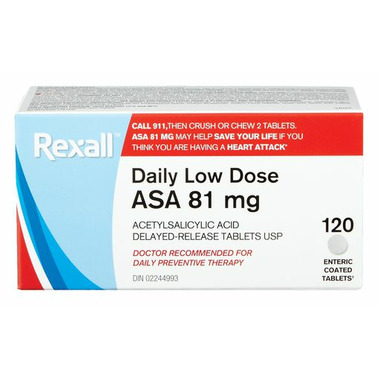 Rexall Daily Low Dow ASA
120 Enteric Coated Tablets

Rexall Daily Low Dow ASA is doctor recommended as a daily preventative therapy.
Enteric Coated Tablets
Ingredients
: Acetylsalicylic Acid, Colloidal Sillicone Dioxide, Lactose, Methacrylic Acid Copolymer Type C, Methylated Silica, Methylcelulose, Polydimethylsiloxane, Pregelatinized Starch, Sodium Bicoarbonate, Sodium Lauryl Sulphate, Sorbitan Tristearate, Stearic Acid, Talc, Titamium DIoxide, Triethyl Citrate
Dosage
: Adults: 1 to 4 tablets daily as directed by a physician. Tablets must be swallowed whole, not crushed, broken or chewed, in order to protect the enteric coating. Do not exceed the dosage recommended by your physician.