Rollover
Rollover Semi-Moist Dog Food Roll Lamb & Veggie Dinner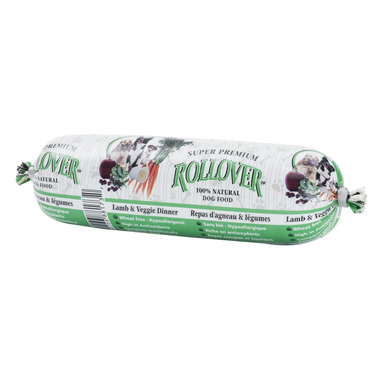 Rollover
Rollover Semi-Moist Dog Food Roll Lamb & Veggie Dinner
Description
Rollover's line of Super Premium Dog Food Rolls are WHEAT FREE made with Barley & oats. Each line of food contain only one protein source from Federally inspected human grade facilities. We do not mix protein or carbohydrate sources therefore all sku's are considered premium hypo – allergenic food.
Rollover Organic Lamb & Veggie rolls are over 60% meat and contain NO synthetic hormones, antibiotics or pesticides. These rolls are also packed with wholesome
fruits & Vegetables as follows:
Apples: A source of fiber & potassium (important for healthy digestion & strong muscles)
Carrots: A source of vitamin A (essential for normal growth & good vision)
Peas: A source of B complex vitamins (critical for energy)
Cranberries: A source of antioxidants (critical for boosting the immune system)
Flax: A source of omega – 3 (essential for a healthy heart)
Feed Rollover dog food alone, as a complete meal, or supplement with your dogs favorite dry food. To feed simply slice off the required amount and either chop or grate in the dogs bowl.
Ingredients: Lamb (heart, lung, liver & kidney) barley flour, eggs, oat flakes, sucrose, salt, peas, carrots, flax, cranberries, parsley, apple, whey protein, garlic, rosemary, vitamin supplements (D3, B1, B2, B6, B12, C) folic acid, biotin, choline, trace minerals (calcium, manganese, zinc, iron, copper)

Crude Protein Min 12%
Crude Fat Min 4%
Crude Fibre Max 6%
Moisture Max 47%

Highlights

Shipping & Returns