Rowland Formulas Formula FLW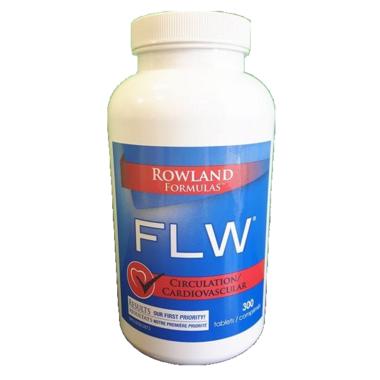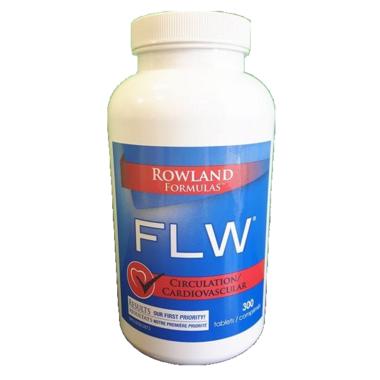 Rowland Formulas Formula FLW
Provides nutritional support for healthy cardiovascular functions.
Helps to clear arterial plaque and prevent its return.
Improves circulation and blood flow.
Protects cells and helps eliminate free radicals.
Formulated with HCl for better digestion and nutrient utilization.
The FLW formula is a carefully selected combination of 24 ingredients. There is no one "miracle" ingredients in the formula. It is a very special combination of nutrients in the right time tested amounts that enables the body to do its own normalizing. Supplementation with sufficient quantities of a broad spectrum of nutrients can actually stimulate the body's own innate processes to clear away arterial plaque and prevent its return. The formula has been used by tens of thousands of satisfied users.
Direction:
(Adults): 5 - 10 tablets daily, or as directed by a health care practitioner. Take with food.
Ingredients:
Vitamin A (palmitate) 4,000 IU
Vitamin E (d-alpha tocopheryl succinate) 65 IU
Vitamin C (ascorbic acid) 320 mg
Vitamin C (calcium ascorbate) 80 mg
Vitamin B-1 (thiamine mononitrate) 20 mg
Vitamin B-2 (riboflavin) 5 mg
Vitamin B-6 (pyridoxine HCl) 15 mg
Vitamin B-12 25 mcg
Niacin 5 mg
Niacinamide 5 mg
Pantothenic Acid 50 mg
Folic Acid 40 mcg
Biotin 10 mcg
Choline (bitartrate) 72.5 mg
Inositol 4 mg
DL-Methionine 24 mg
Magnesium (oxide) 40 mg
Potassium (chloride) 20 mg
Potassium (citrate) 20 mg
Manganese (gluconate) 0.5 mg
Zinc (gluconate) 3 mg
Silicon (dioxide) 2.2 mg
Chromium (proteinate) 20 mcg
Selenium (proteinate) 25 mcg
OTHER INGREDIENTS
L-Cysteine Hydrochloride, Calcium Carbonate, Silica, Betaine Hydrochloride,
Adrenal concentrate, Thymus concentrate, Spleen concentrate, Kelp, Vitamin D-3.