Rumble Vanilla Maple Supershake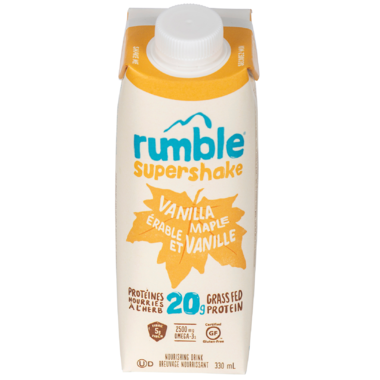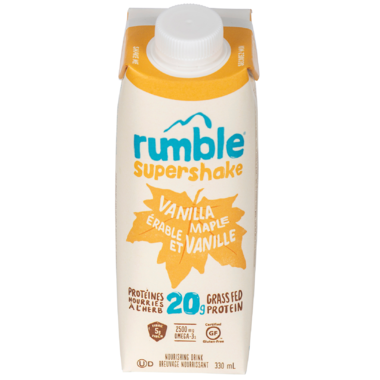 Rumble Vanilla Maple Supershake
Rumble is a nourishing drink for any snack occasion, providing a much needed boost for hungry bodies on-the-go. Remember the old saying that if it tastes good, it can't be good for you? Like the beverage world, Rumble is turning this one upside down. Rumble is all about the big taste you want, with the balance you need.

Features:
Lactose and Soy free
20g of protein, 5g of fibre, and 2500mg of Omega-3s per shake.
Kosher
Ingredients: Purified water, grass fed protein blend (grass fed milk protein, grass fed whey protein), brown rice syrup, maple syrup, gum arabic, organic flaxseed oil, natural flavour, grass fed butter, coconut MCT oil, sunflower lecithin, monk fruit juice concentrate, tara gum, mixed tocopherals, green tea extract, organic vanilla bean extract, gellan gum, organic brocolli, organic brocolli sprouts, organic tomato, organic carrot, organic spinach, organic kale, potassium carbonate, organic stevia.