Rumina Naturals Womb To Grow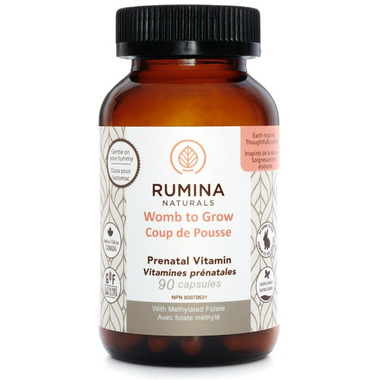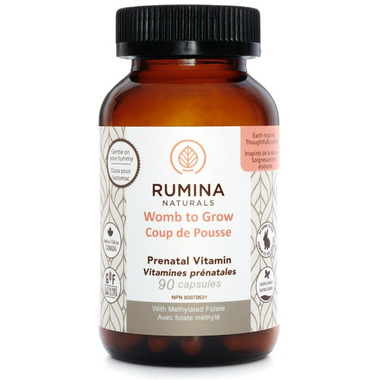 Rumina Naturals Womb To Grow
A complete nutritional supplement, formulated especially for pregnant and lactating women made with the highest quality ingredients.
Features:
Comprehensive nourishment for both mom and baby
Bioavailable, well-absorbed nutrients
Optimal support for pregnancy and lactation
Contains Methylated Folate, Vit K2, Iron Bisglycinate, Organic Ginger and added B6 for nausea of pregnancy
Dosage: Take 1 capsule 3 times daily with food.
Ingredients: Beta-Carotene, Vitamin C, Vitashine Vegan Vitamin D3, Mixed Tocopherols concentrate, Vitamin K2, Thiamine, Riboflavin, Niacin-amide, Vitamin B6, Folate (L-5 Methyltetrahydrofolate, calcium salt), Vitamin B12, Biotin, Pantothenic acid, Calcium citrate, Iron II bisglycinate, Potassium iodide, Magnesium Bisglycinate, Zinc citrate, Selenomethionine, Copper II citrate, Manganese II sulfate, Chromium III nicotinate, Molybdenum VI citrate, and Ginger Non-medical ingredients: Hypromellose, Rice bran, cellulose
Warning: Keep out of reach of children. There is enough drug in this package to seriously harm a child. Consult a healthcare practitioner prior to use if you are taking blood-thinners. Known adverse reactions: hypersensitivity has been known to occur; in which case, discontinue use.