RX Balance Calm Plex L-Tryptophan Plus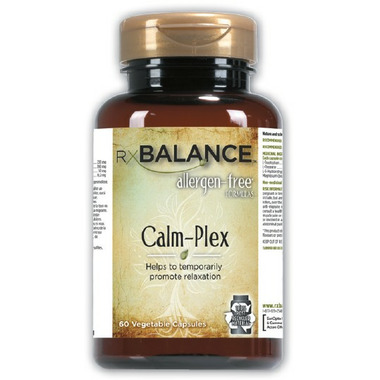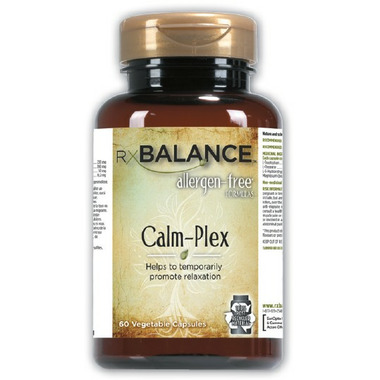 RX Balance Calm Plex L-Tryptophan Plus
- We're sorry, this product is no longer available!
- Shop for other products in: Other Supplements

Calm-Plex is a highly effective formula that promotes relaxation. The unique combination of L-tryptophan, L-theanine, L-5-HTP, and magnesium bisglycinate complement one another to safely promote calmness and relaxation and improve sleep quality without the risk of becoming habit forming. L-tryptophan, a precursor of serotonin and melatonin, promotes relaxation, sleep, and good mood. L-theanine promotes a relaxed state by increasing the production of alpha waves in the brain. L-5-HTP is a calming neuronutrient that naturally increases serotonin levels and supports calmness, relaxation, and good sleep. Magnesium is required for normal nerve function and muscle relaxation, and it can alleviate sleep disturbances.
Directions:
Adults - take 1 capsule daily.
Warnings:
Do not use if you have scleroderma. Consult a health care practitioner prior to use if you are pregnant or breastfeeding. Consult a heath care practitioner if symptoms persist or worsen. Discontinue use and consult a health care practitioner if you show signs of weakness, oral ulcers, or abdominal pain accompanied by severe muscle pain or if you experience skin changes. Exercise caution if operating heavy machinery, driving a motor vehicle, or if you are involved in activities requiring mental alertness. Some people may experience diarrhea, nausea, vomiting, abdominal pain, and/or drowsiness.
Non-medicinal ingredients:
Cellulose, magnesium stearate, silicon dioxide, hypromellose. This product does not contain corn, dairy, egg, gluten, shellfish,
soy, sulfites, animal derivatives, or artificial colours, flavours, or preservatives.