Salinex
Salinex Daily Nasal Spray Ultra Gentle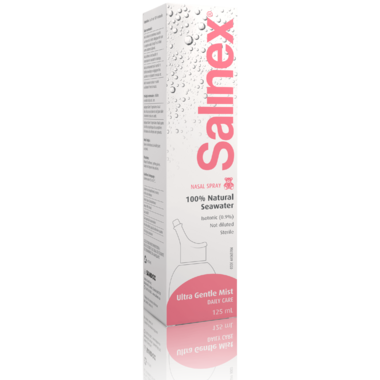 Salinex
Salinex Daily Nasal Spray Ultra Gentle
Description
Reduce symptoms associated with colds and allergic rhinitis such as nasal congestion, when used as an adjuvant treatment. Clearing a stuffy and congested nose is achieved by promoting drainage. Helps smooth drainage and facilitate nose blowing by loosening secretions and moisturizing dry mucus. Also maintains healthy sinuses by removing excess mucus.
Instructions for Use: Adults and children over 2 years old. Apply Salinex® Daily Nasal Spray 2 times a day (morning and evening) to help maintain healthy sinuses. Apply Salinex® Daily Nasal Spray 4-6 times a day when cold or allergy symptoms are present.
Ingredients: 100% natural seawater
WARNING: Consult a healthcare practitioner if symptoms persist or worsen, or if there is no improvement after you have tried to clear the nose; if the discharge is persistently thick and yellow or green; if you have any other symptoms of illness such as fever or ear infection.

For children (2–12 years), application should be supervised by an adult.
Do not use the same bottle for more than one person. Do not apply when a child's head is back in order to prevent fluid from going down the throat. Do not completely block or occlude nasal passage during use to avoid pressure in the nose or ears.

Do not use if nose or ears are completely plugged or in the event of ear infection.
Store between 15 and 30°C. Contents under pressure. Do not place in hot water or near radiators, stoves, or other sources of heat. Do not puncture or incinerate container or store temperature over 50°C.
Highlights

Shipping & Returns
Unfortunately, due to the nature of this item, we cannot accept any returns.
We are only able to ship this item to Canadian customers.
Click here for more information