Sapadilla
Sapadilla Rosemary + Peppermint Countertop Cleanser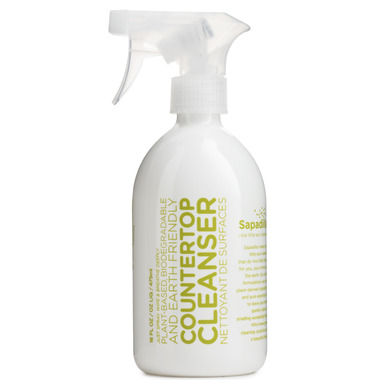 Sapadilla
Sapadilla Rosemary + Peppermint Countertop Cleanser
475 mL
Sapadilla Rosemary + Peppermint Countertop Cleanser
is rated out of
5
by
15
.
---
Description
The revitalizing duo of pure peppermint and rosemary pack an oh-so fresh punch, while a touch of orange sweetens the blend. A subtle background of warm, lightly spicy clove is the finishing touch in this heavenly herbaceous blend.

This handy-dandy cleanser works great for quick clean-ups all around your home, but is a must-have in the kitchen. It's perfect for cleaning sticky countertops, greasy grimy stovetops, and other kitchen surfaces. Just spray, wipe and breathe deeply.

Safe for use on all non-porous surfaces, such as sealed synthetic or natural stone (like granite and marble), tile, laminate, linoleum, finished wood, kitchen appliances, bathroom fixtures, etc. For maximum sanitation, let sit a few minutes before wiping. If you're unsure about a surface, test in an inconspicuous area first. For streak-free results, wipe with a damp cloth.

Highlights

Ingredients
Purified Water, Coco Glucoside, Ethyl Alcohol, Lactic Acid, Essential Oils of Peppermint, Rosemary, Clove and Sweet Orange, Potassium Sorbate, Sodium Benzoate.
Shipping & Returns
Rated

5

out of

5
by
Rhonda
from
Love this stuff!!
Teenaged me would laugh her head off at the idea I'd ever have a favourite cleaning product but here we are - love this stuff! You only need a bit to get the job done so theoretically the bottle will last a long time ... except it smells so good and works so well that I'm cleaning everything in sight. So many other cleaning products give me a headache or make me feel queasy but no problems at all with this one! I've only tried the peppermint rosemary scent so not sure about the others (yet!). I balked at the price til I used it - it is worth every penny. Already bought another bottle so I have one upstairs and one downstairs. PS I'm not being paid for this review and I'm no Martha Stewart so raving about a cleaning product is not something I'd normally do - it's just that great
Date published: 2020-05-26
Rated

5

out of

5
by
Terry
from
Found this Company
Received this couldn't wait to try. It is amazing. Love that it's natural as well. It smells fresh, very minty. Cleans countertops and any other surface. I use it for everything and it leaves the room smelling delicious. Glad Company was started in Canada, don't know why it ended up in Ohio. Please keep in stock can't get it anywhere else.
Date published: 2021-08-02
Rated

5

out of

5
by
JP
from
No Residue on Dark Granite! (Smells amazing too!)
This has been my go to product to wipe my counters. I got so tired of wiping my granite counters using dish soap, then dry them, only to still see residue. Now I just use this instead. I spray the counter, wipe it, dry it and no residue to be found.
Date published: 2020-07-06
Rated

5

out of

5
by
NW
from
Absolutely LOVE
My husband wanted a product that was not toxic and green for our new quartz countertops. I found this on Well.ca and absolutely love it. I love the scent, it cleans well and I've recommended it to several friends who now use it also!
Date published: 2021-12-10
Rated

5

out of

5
by
Momina
from
Worth Trying!!
If you are sensitive to strong scents and/or cleaning products, this is an excellent choice. It smells lovely and cleans very well. Great for counters, tiles, sinks and more!
Date published: 2021-01-26
Rated

5

out of

5
by
jk
from
Smells so great!
I've bought this before and have bought it again. It smells so great it makes cleaning less of a pain and I love that it's friendlier to the environment.
Date published: 2021-02-04
Rated

4

out of

5
by
8-6-7-5-3-0-1
from
Nice change in scent
Great product, tried this scent and didn't LOVE it but LIKE it, nice change from a standard citrus scent. Will use seasonally to change things up a bit.
Date published: 2022-09-20
Rated

4

out of

5
by
Zoe
from
Unexpected perk
The smell is nice even though it burns my eyes, but the cool this is it got rid of the pharaoh ants we had when nothing else was working! I live it!
Date published: 2022-12-07