SBT Seabuckthorn Night Cream
Seabuckthorn, Green Tea, & Shiitake Mushroom
50 mL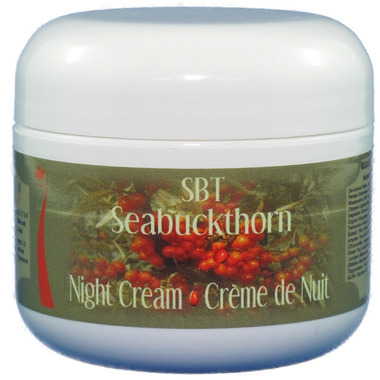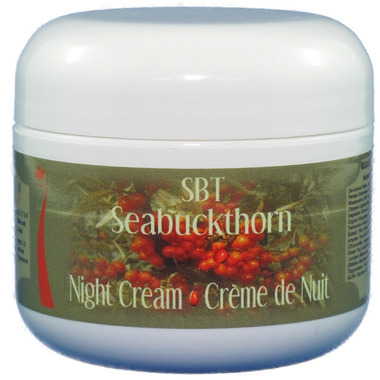 SBT Seabuckthorn Night Cream
Seabuckthorn, Green Tea, & Shiitake Mushroom
50 mL
A nocturnal facial feast. This SBT Seabuckthorn Night Cream contains olive oil squalene, grape seed extract, cucumber, wild mushrooms, green tea, and seabuckthorn to nourish, tone, tighten, brighten, & repair your skin while you sleep.
This cream is so nourishing & rich that it eliminates the need for eye cream all together. Nourish botanicals also help to diminish age spots, smooth the skins surface, reduce redness, & repair environmental damage.
As with all SBT creams it is rich in anti-oxidants and anti-aging properties that help to diminish fine lines & wrinkles. Your skin repairs itself during your sleep which is why a nourishing & rich night cream is so important! Suitable for all ages & skin types.
Features:
Nourishing plumping cream for thinning skin
Diminishes dark spots & evens skin tone
Vegan & Cruelty Free
Rich in anti-aging seabuckthorn & green tea
Naturally preserved
Recyclable packaging
Free from silicon, parabens, mineral oil, & retinal palmitate
Unscented/fragrance free
Handmade in small batches to ensure quality
Made with organic & non-gmo ingredients
Directions: Apply to face & neck after cleansing at night before bed. A deep penetrating, super rich night time moisturizer that smooths fine lines and wrinkles and restores skin's youthful radiance. Also effective when used as an under eye treatment.

Ingredients:
De-Ionized Water, Aloe Barbadensis (Aloe Leaf) Gel, Persea Gratissima (Avocado Seed), Organic Hippophae Rhamnoides (Sea buckthorn) Seed Oil, Simmondsia Chinesis (Jojoba Seed) Oil, Vitis Vinifera (Grape Seed) Oil, Vegetable Glycerine, Butyrospermum Parkii (Shea Butter), Organic Hippophae Rhamnoides (Sea buckthorn) Fruit Oil, Tamarindus Indica Seed Extract, Cucumis Sativus (Cucumber) Fruit Extract, Vitis Vinifera (Grape) Fruit Extract, Bladderwrack, Saccharomyces / Sea Salt Ferment, Chamomilla Matricaria Flower Extract (Chamomile), Vegetable Glycerine, Camellia Sinensis (Japanese Green Tea) Leaf Extract, Quaternized Wheat Protein, Ganoderma Lucidum (Mannentake Mushroom) Extract & Lentinus Edodes (Shiitake Mushroom) Extract & Algae Extract Capric/Capryllic Triglycerides, Tocopheryl (Vitamin E), Cetyl Alcohol (fatty acid), Glucose Oxidase & Lactoperoxidase (Natural Preservative)
Made in Canada, Gluten Free, Natural, Vegan, Soy Free, Nut Free, Sugar Free