SBT Seabuckthorn Rosacea Soothing Salve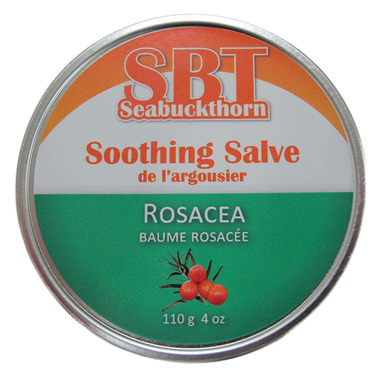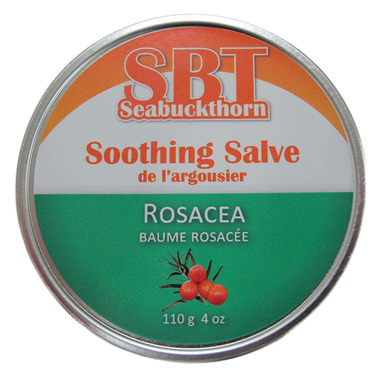 SBT Seabuckthorn Rosacea Soothing Salve
SBT Seabuckthorn Rosacea Soothing Salve is an excellent all natural anti-inflammatory treatment for red, inflamed, and flaking skin. Calendula and chamomile combined with seabuckthorn seed and fruit oils naturally cool, calm, nourish, moisturize, and protect Rosacea inflamed skin. Helps reduce pain, redness, and inflammation associated with rosacea flare ups. Each essential oil was carefully selected for its soothing and healing properties.

Features:
Natural anti-inflammatories soothe and cool rosacea inflamed skin
Reduces redness and inflammation associated with flare ups
Hydrates & nourishes skin
Helps to stop skin flaking
Protects against environmental damage & soothes skin after UV exposure
Directions: Soothes and moisturizes rosacea inflamed skin. Apply nightly or whenever experiencing the discomfort of a rosacea flush.
Ingredients: Coconut Oil, Candelilla Wax, Cocoa Butter, Organic SBT Seabuckthorn Seed Oil, Organic SBT Seabuckthorn Fruit Oil, German Chamomile Oil, Calendula Oil, Meadowfoam Seed Oil
Natural, Gluten Free, Sugar Free, Dairy Free, Peanut Free Product, Tree Nut Free Product, Canadian Brand.
Made in Canada, Gluten Free, Soy Free, Natural, Vegan, Nut Free, Sugar Free