SBT Seabuckthorn Stretch Marks & Scars Soothing Salve
Reduces Appearance of New & Old Stretch Marks
110 g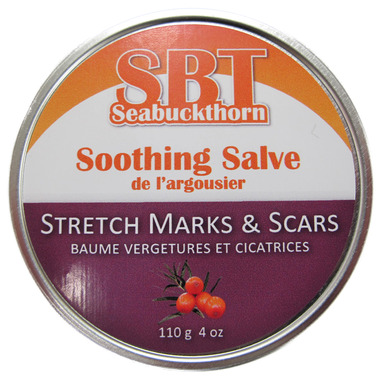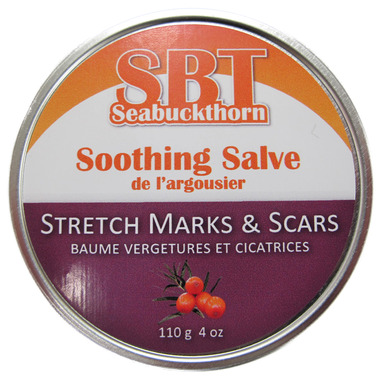 SBT Seabuckthorn Stretch Marks & Scars Soothing Salve
Reduces Appearance of New & Old Stretch Marks
110 g
SBT Seabuckthorn Soothing Salve for Stretch Marks and Scars naturally refines and reduces the appearance of stretch marks and scars while protecting and nourishing skin. Their Stretch Mark & Scars salve utilizes the healing powers of Coconut Oil, Cocoa Butter, Vegetable Squalene, Blue Tansy, Pomegranate, and Rosehip Oil to naturally nourish, refine, and diminish appearance while increasing skins elasticity. Seabuckthorn Oil is high in natural vitamin e which helps to reduce the appearance of scars old & new. Safe for use before, during, & post pregnancy.
Features:
Refines and reduces the appearance of stretch marks and scars
Restores and maintains skin's elasticity to help prevent stretch marks
Safe to apply during pregnancy
Helps prevent stretch marks for anyone experiencing significant weight fluctuations
Moisturizes and softens the skin
Directions: Diminishes the look of stretch marks and scars. Use during pregnancy or significant weight fluctuations to prevent stretch marks. Also can be used to prevent scarring. Apply liberally to reduce to appearance of stretch marks and scars. For pregnant women, apply liberally during pregnancy to the belly, legs, arms, breasts and other parts that grow to maintain elasticity and prevent stretch marks.

Ingredients:
Coconut Oil, Candelilla Wax, Cocoa Butter, Organic SBT Seabuckthorn Seed Oil, Organic SBT Seabuckthorn Fruit Oil, Pomegranate Oil, Rosehip Oil, Olive Oil Squalene, Blue Tansy Oil

Made in Canada, Gluten Free, Soy Free, Natural, Vegan, Nut Free, Sugar Free