ScandiShake Calorie-Rich Shake Mix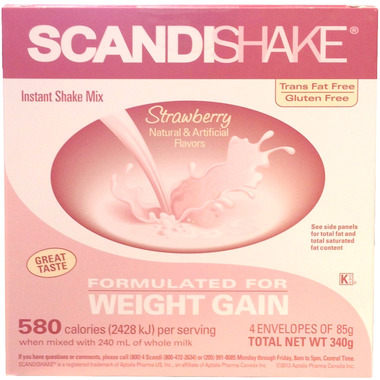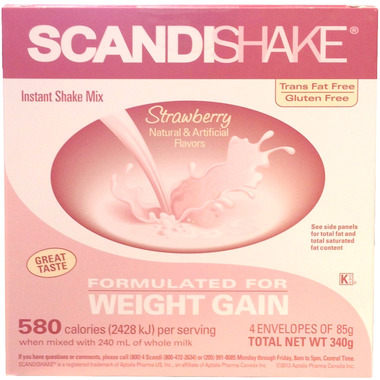 ScandiShake Calorie-Rich Shake Mix
SCANDISHAKE calorie-rich shake mix is designed to assist patients who need to gain or maintain weight. Mixed with 8 ounces of whole milk, a single serving of SCANDISHAKE contains approximately 600 calories!

SCANDISHAKE is available in great-tasting Vanilla, Chocolate and Strawberry flavors and can be mixed with a variety of foods and beverages to help combat taste fatigue. Try SCANDISHAKE mixed with different fruit juices, sodas and extracts, and in casseroles, sauces and desserts.

SCANDISHAKE is gluten-free and certified as kosher.
Ingredients: Maltodextrin, hydrogenated coconut oil, sunflower oil, sugar, non fat milk, corn syrup solids, sodium caseinate, soy lecithin, medium chain triglycerides (MCT oil), soya oil, natural and artificial flavors, dipotassium phosphate, mono and diglycerides, sodium silicoaluminate, color, citric acid, tocopherol, and silicon dioxide.

*ScandiShake is not a meal replacement and should not be considered a complete nutritional supplement. Patients intending long-term use should consult a medical professional for additional dietary considerations.