Schick
Schick Quattro For Women Razor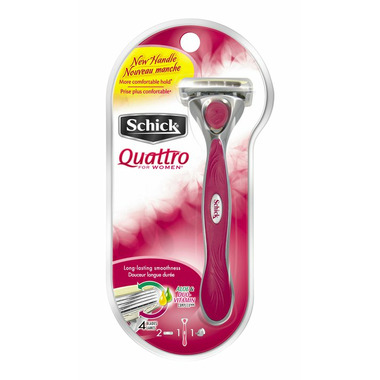 Schick
Schick Quattro For Women Razor
1 Count
Schick Quattro For Women Razor
is rated out of
5
by
12
.
---
Description
Modified for a woman's curves, the Quattro For Women razor still has all the sophisticated features of a man's razor - adding up to one seriously serious shave.
Features:
Duo Conditioning Strips, one with Aloe and the other with Vitamins E & B5, provides comfort and glide.
Four Synchronized Blades give you the ultimate smoothness with a single pass of the razor.
The Pivoting Head moves a full 40 degrees to conform to the contours of your skin.
The Ergonomic Design features multiple rest points positioned for the six most popular grips.
A soft, cushy rubber provides a No-Slip grip that keeps the razor where it belongs - in your hands.
The Metal Handle is 39 grams of zinc alloy for a substantial feel and great control.
Rated

1

out of

5
by
nelvana
from
Keep your receipt -wish I had so I could return it
I decided to treat myself to a new razor and unfortunately chose the Quattro. It feels comfortable enough .. doesn't scratch or tug, but it also doesn't work very well! Even when I have just shaved, my legs are not smooth. I know it's not me as I've had other brands prior and they worked well. I guess I fell for the pretty colour and less expensive price than the other brands. I wish I could return it to the store but don't have my receipt any longer. Oh, and it also falls apart! I've dropped it a couple of times in the shower and the little button thing that removes/installs the blade pops off readily. Trying to put it back on in the shower without glasses is no fun at all. Lousy product. I thought the name Schick meant I was getting something good but I was mistaken.
Date published: 2016-10-13
Rated

1

out of

5
by
meltem
from
Very deceiving package...
If the package lies, then so does the ad. This package makes you think there are 4 extra blades when actually only one is full out of 4. I find it quite unethical and annoying. I could have purchased another product if I knew there is only one extra in the package. I will never buy this product again to protest. Would like to encourage everyone do the same until they learn to be honest.
Date published: 2015-05-26
Rated

1

out of

5
by
DonnaC
from
Not happy with this product!
I bought this product a couple of weeks ago and am not happy with this product. If I shave in the morning, by afternoon I need to shave again. Not sure what the problem is but have now switched to the Men's Schick Razor and it works great. I guess I'll be switching to using the men's razors now.
Date published: 2015-08-31
Rated

1

out of

5
by
emmyjz
from
Terrible razor
This razor simply does not work. You need to go over the same area an infinite number of times, and even then it doesn't get all the hair. I'm throwing it out and going back to Gillette.
Date published: 2016-08-09
Rated

1

out of

5
by
exasperated101
from
Stress-free life? Not!
I bought this razor quite a while ago, but every time I go to use it, I cannot open the packaging! So, I still have it, in the packaging, not used yet! Can you please change the packaging or add instructions on the outside of just how we are supposed to open it? Don't tell me to use a knife or scissors, that is dangerous, plus I do not want to dull those items on your fort knox packaging. Can I suggest you ditch plastic altogether? Check out Ocean Clean Up on FACEBOOK, and Boyan Slat.
Date published: 2017-02-03
Rated

3

out of

5
by
Sleepykitty
from
Disappointing handle
I've been using the Schick Quattro for over a decade. It has finally come time to replace the handle and I'm so very disappointed with the current handles. The old one has metal and some weight to it with a rubbery grip, but the new one is very light weight and made entirely of plastic. It slips out of my hand constantly in the shower and feels like a cheap disposable razor. I like the blades but very disappointed in the cheap handle.
Date published: 2018-01-08
Rated

1

out of

5
by
lunachick31
from
Beyond Disappointed
I bought this as I was getting frustrated with my current razor, but ended up appreciating the one I use over this one. Takes forever to shave with this as the blade is narrow and leaves stubble right after shaving. I would not recommend this to anybody. Very bad product. I only gave one star as there is no option to give zero stars.
Date published: 2016-08-29
Rated

2

out of

5
by
Maur
from
Terrible time replacing blades
When I bought this shaver I thought it was great with the first blade already attached to the shaver. I'm having terrible luck at replacing the new blade. I feel like I've wasted a lot of money, This is absolutely frustrating.
Date published: 2017-07-22