Scrubbing Bubbles
Scrubbing Bubbles Bathroom Grime Fighting Aerosol Cleaner Fresh Clean Scent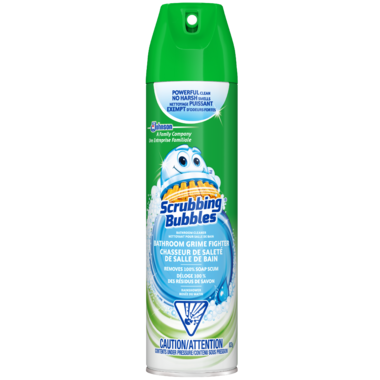 Scrubbing Bubbles
Scrubbing Bubbles Bathroom Grime Fighting Aerosol Cleaner Fresh Clean Scent
Description
Scrubbing Bubbles Bathroom Grime Fighter Aerosol is more than just a bathroom cleaner. Its a shower cleaner, tub cleaner, sink cleaner, and more. It removes 100% of soap scum and smells amazing, leaving behind a fresh scent. Don't let grime and scum get the best of your bathroom, fight back with Bathroom Grime Fighter.
Works on:
Ceramic
Chrome
Counter tops
Shower
Shower doors
Sink
Tub
Directions: Spray 20 cm (6-8 in) from surface until thoroughly covered. For tough jobs, let stand several minutes before wiping. Rinse.
Shipping & Returns
Unfortunately, due to the nature of this item, we cannot accept any returns.
We are only able to ship this item to Canadian customers.
This product cannot be shipped to Remote locations.
Click here for more information