Senokot Natural Source Liquid Laxative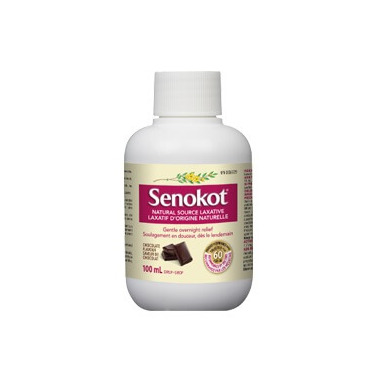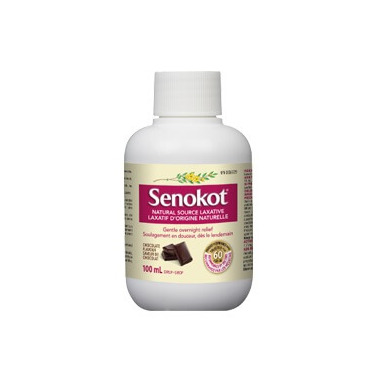 Senokot Natural Source Liquid Laxative

For comfortable overnight relief of occasional constipation. Recommended by doctors and pharmacists. Trusted for over 45 years. Each 1 ml of Senokot syrup contains 1.7mg of standardized sennosides.
When tablets won't do, a chocolate-flavoured syrup is well-suited for seniors and children in need of gentle overnight relief of constipation.
Features:

Syrup is easy to swallow
Chocolate flavored to make giving to children easier
Trusted brand for 60 years
All Natural
May be covered by your provincial drug plan
Dosage: Adults: 2-3 teaspoons(10-15ml) 1-2 times per day Total daily dose not to exceed 30ml
Children ages 6-12: 1-2 teaspoons(5-10 ml) 1-2 times per day Total daily dose not to exceed 20 ml
ACTIVE INGREDIENTS: Each mL of Senokot® syrup contains 1.7 mg standardized sennosides from a natural source.
NON-ACTIVE INGREDIENTS: Chocolate flavour, citric acid monohydrate, peppermint flavour, sodium citrate dihydrate, sodium metabisulfite, sodium methylparaben, sodium propylparaben, sorbitol (3 g/100 mL equivalent to 7.8 kcal), sucralose (110 mg/100 mL), water, xanthan gum.
Caution: Reduce dose or discontinue use if you experience abdominal pain, griping (cramps or spasms) and/or diarrhea. Do not use in the presence of fecal impaction and undiagnosed, acute or persistent gastrointestinal complaints (e.g., abdominal pain, nausea, fever or vomiting) as these symptoms can be signs of a potential or existing intestinal blockage or ileus. Consult a healthcare practitioner if symptoms persist or worsen. Laxatives should not be taken within two hours of another medicine because the desired effect of the other medicine may be reduced. If rectal bleeding or failure to have a bowel movement after use occurs, discontinue therapy and consult a physician, as this may indicate a serious condition. If there has been a sudden change in your bowel movements that persists over a 2-week period, consult a physician before use.

Consult a physician prior to use if you are taking thiazide diuretics, corticosteroids, licorice root or other medications or health products which may aggravate electrolyte imbalance. Consult a physician prior to use if you have a kidney disorder or are taking cardiac medications such as cardiac glycosides or antiarrhythmic medications. Long-term use of stimulant laxatives should be avoided as it may lead to impaired function of the intestine, dependence on laxatives, dehydration and electrolyte imbalance (including hypokalemia). Concomitant therapy with other drugs or herbal substances known to induce hypokalemia (e.g., diuretics, adrenocorticosteroids and licorice root) may enhance the electrolyte imbalance.

Prolonged excessive use or misuse of these products may also result in the development of atonic colon. For patients on a sodium-restricted diet, there is a very small amount of sodium in Senokot® Syrup. See Non-Medicinal Ingredients on label. If you are pregnant or breast-feeding, consult a healthcare practitioner before use. Drug Interactions: There are no known drug interactions with sennosides.

Symptoms and treatment of overdosage: The major symptoms of overdose abuse of any stimulant laxative including those containing senna are griping pain and severe diarrhea, leading to excessive water loss (dehydration) and possible electrolyte imbalance (hypokalemia). Treatment should be supported with generous amounts of fluid. Electrolytes, especially potassium, should be monitored. This is especially important in the elderly. In case of overdose: Call a Regional Poison Control Centre and/or your physician and/or your local emergency number immediately, or go to your local hospital emergency, even if you do not notice any signs or symptoms. Keep all medicines out of the reach of children.