Silikids Siliskin Sippy Tops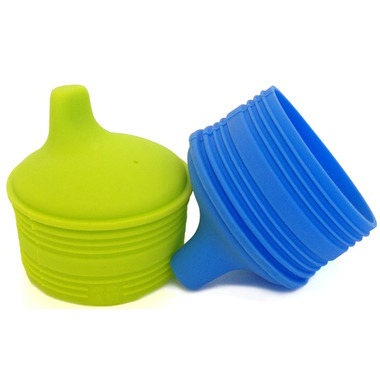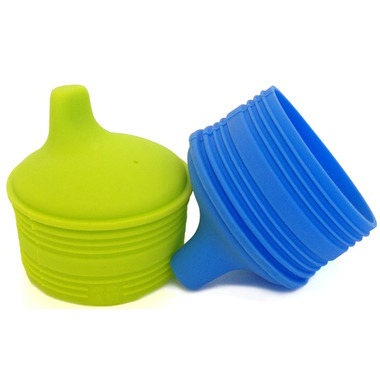 Silikids Siliskin Sippy Tops
Give your little one's cup a sippy top with these Silikids Siliskin 2-Pack Reusable Silicone Sippy Tops. Made of non-toxic silicone, this soft top features extra bands for shock absorption. The top stretches and grips the opening of various cup sizes.

Features:
Silicone top stretches over and grips top of multiple size cups
Added stretch and shock absorption band help protect glass
Air suction keeps the top in place
Add it to a Siliskin Glass or glass of your choice
Makes in instant, no spill cup
Comes in 2 pack
Dishwasher safe
Recommended use for cups of 2.5"" diameter or less
Sara:
a few months ago
Loved the idea. As stated elsewhere, placement is key for it to work. Luckily my nephew didn't bite through it, though he tried! However, a hole tore on the side where it stretches over the side of the cup on the first time and we didn't use a very large cup (it didn't need to stretch very much to fit on the cup we used). I'm hoping the green one is a bit more durable, otherwise this was a waste of money.
Nicole:
more than a year ago
Love the idea and the fact that I can just throw this in my bag and give my baby water wherever we are. That said, you have to make sure it's on really well and get the placement right so that the mouthpiece is close enough to the edge of the cup. It bothers me a bit that the structure of the top makes it look awkward on slightly larger cups, but generally serves it's purpose as a backup for when we're out and about.
Kiera:
more than a year ago
Love the idea - but if your kid likes to bite look elsewhere. First time I pulled out the blue one my son bit through the it completely and into the decorative silicone on my water bottle. So now I'm out the money for these and my water bottle has permanent teeth marks.
Useless for me, but my sister in law loves hers. I guess her kid doesn't have daggers for teeth.
Page
1