Similasan Kids Cough Relief Cough Syrup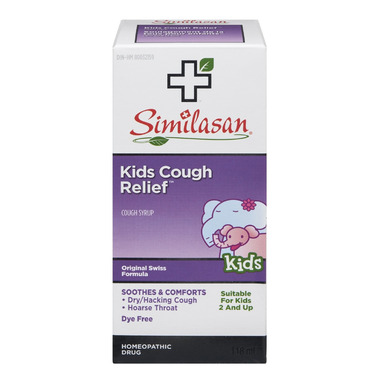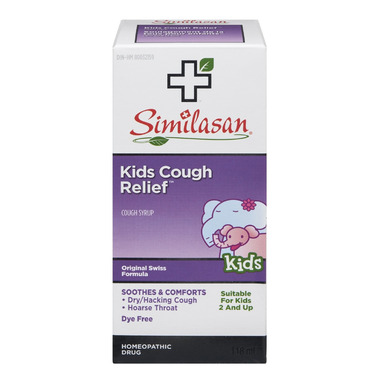 Similasan Kids Cough Relief Cough Syrup
You want your child to feel better. That's why Similasan created Similasan Kids Cough Relief cough syrup to stimulate the body's ability to temporarily relieve the symptoms of a dry, hacking cough.
Features:
Suitable for Kids 2 and Up
Dye-Free
Soothes & Comforts Dry-Hacking Cough Hoarse Throat
Uses:
Homeopathic drug to temporarily relieve symptoms of dry/hacking cough, and hoarseness.
Medicinal ingredients:
Atropa belladonna, Belladonna* (whole fresh plants without woody lower stem sections) 6X, Drosera (whole fresh plants) 3X, Prunus laurocerasus, Laurocerasus (fresh leaves) 4X, Rumex crispus, Rumex (fresh underground parts) 4X, Polygala senega, Senega (dried roots & root crowns) 6X, Verbascum densiflorum, Verbascum (fresh aerial parts without woody stems) 6X
*containing 0.0000000016% alkaloids calculated as hyoscyamine
Non-medicinal Ingredients:
Purified water, D-Sorbitol, Sodium chloride, Potassium sorbate, Citric acid
Directions:
Children aged 2-12 Dose: 2.5 ml, Frequency: 3 to 6 times daily (every 4 hours).
Children aged 12+ Dose: 5 ml, Frequency: 3 to 6 times daily (every 4 hours).
Or use as directed by a health care practitioner.
Warnings:
Consult a health care practitioner before use if pregnant or breast feeding. Consult a health care practitioner if symptoms persist for more than 7 days or worsen. Keep this and all medications out of the reach of children. Do not use if tamper-evident seal is broken. In case of accidental overdose, get medical help or contact a Poison Control Center immediately. Do not exceed recommended dosage.