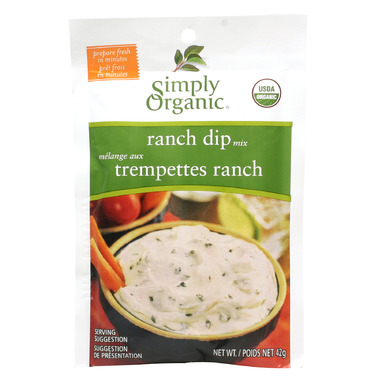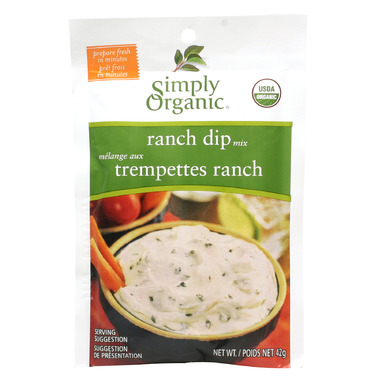 Simply Organic Ranch Dip mix offers well-rounded flavour. This all-American classic -- created by a California dude ranch owner while living in Alaska -- is so versatile it can be used as a dip, dressing or ingredient in many recipes
Features:
Ingredients: Organic Nonfat Dry Milk, Sea Salt, Organic Cane Sugar, Organic Garlic, Organic Onion, Organic Carrot, Organic Celery Seed, Xanthan Gum, Organic Parsley, Organic Black Pepper, Organic Natural Butter Flavor (organic Maltodextrin, Organic Natural Butter Flavor, Natural Flavor), Lactic Acid Powder (Lactic Acid, Calcium Lactate, Silicon Dioxide).
Contains: Milk.
Directions: You will need 1/2 cup buttermilk 1/2 cup mayonnaise Whisk together ½ cup buttermilk, ½ cup mayonnaise and packet ingredients. Chill 30 minutes before serving.