Simply Organic Sloppy Joe Seasoning Mix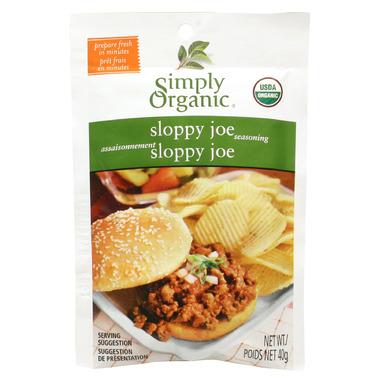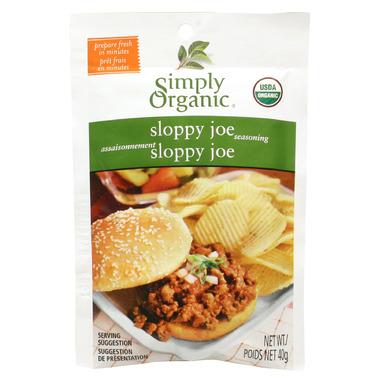 Simply Organic Sloppy Joe Seasoning Mix
Simply Organic Sloppy Joe Seasoning Mix is the perfect mix for the original gotta-love-it messy-as-all-get-out dinner. Brown the beef, warm the buns, lick your fingers and dig in!

Features:Ingredients:
Organic Maltodextrin, Sea Salt, Organic Onion, Organic Chili Pepper, Organic Garlic, Organic Potato Starch, Organic Cane Sugar, Organic Paprika, Organic Tamari Powder (Organic Soybeans, Organic Maltodextrin, Salt), Organic Black Pepper, Silicon Dioxide, Organic Cumin, Citric Acid.
Directions:
In a large skillet, cook 1 lb. ground meat and 1/4 cup chopped onions on high heat until meat is thoroughly cooked and onions are soft, drain and return to skillet.
Mix packet contents with 1 cup warm water in a boil, stirring until completely dissolved. Add one 6 oz. can of tomato paste, mix well, and add to cooked meat/onion mixture.
Simmer for 5 minutes or until desired thickness is reached.
Makes 8 sandwiches.
For a vegetarian Sloppy Joe, use a meat substitute such as textured soy protein (approximately 4 cups) in place of ground meat and cook as indicated above.