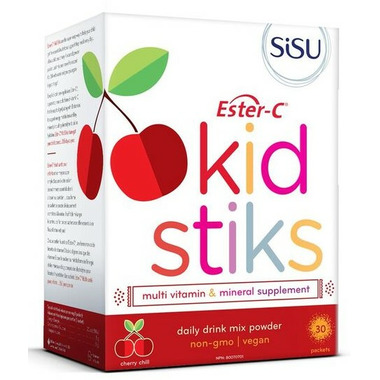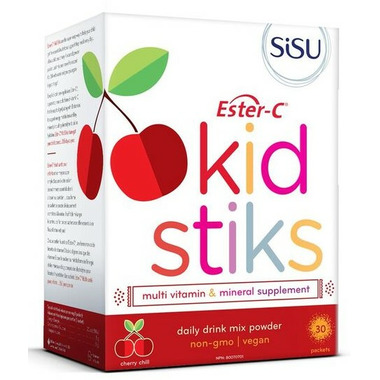 SISU Ester-C Kid Stiks are a super-easy way to give children the daily
nutritional support they need with easy-to-digest Ester-C brand vitamin C for
24-hour immune support, nourishing B vitamins, and key minerals including
electrolytes to aid in hydration.
Features:
Convenient, powdered multivitamin that mixes into a delicious, fun drink
Full complex of B vitamins to support mood, brain function, and nervous system health
Ester-C®, a type of antioxidant vitamin C, is less acidic and has been proven to last up to 24 hours in the white blood cells for advanced immune support
A source of electrolytes to aid in hydration, particularly important for recovery from physical activity, illness, and stress
Delicious Cherry Chill flavour made with natural vegetable colours and no artificial sweeteners
Made with non-GMO ingredients, vegan-friendly, and free of gluten, peanuts, and tree nuts
Only 5 grams of natural sugar and 20 calories per Kid Stik
Dosage:
Children (2-8 years): Take 1 packet per day or as directed by a health care practitioner. Adolescents (9-13 years): Take 1 packet 2 times per day or as
directed by a health care practitioner. Take with food. Take a few hours before or after taking other medications or natural health products. Mix with a glass of water.
Medicinal Ingredients:
Vitamin C, Calcium, Magnesium, Niacinamide, pantothenic acid, riboflavin, thaimine, vitamin b6, vitamin b12, folic acid, zinc.
Non-medicinal Ingredients:
Sodium chloride, D-fructose, dl-malic acid, citric acid, silicon dioxide, Stevia rebaudiana leaf, beet juice concentrate, maltodextrin.

Cherry Chill:
Gum acacia, triacetin, natural cherry flavour, natural fruit punch flavour.




Carly:
a few months ago
These have been a big hit in our family. I like that I don't have to worry about the kids choking on hard vitamins and it's much easier to get a toddler to enjoy some "juice" every morning as opposed to a hard vitamin. I'm not a big fan of introducing gummy vitamins so this is a happy medium. Both the grape and cherry flavours are well received here.
Janna:
about a year ago
I like the idea of these for my little guy, particularly during cold and flu season. Unfortunately, he didn't like the cherry flavour. I tried it as well and, honestly, it reminded me of cherry cough syrup my mom used to give me as a child. That being said, I'm still going to try the grape one to see if he likes that flavour.
Page
1