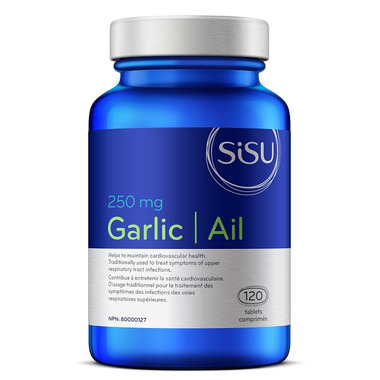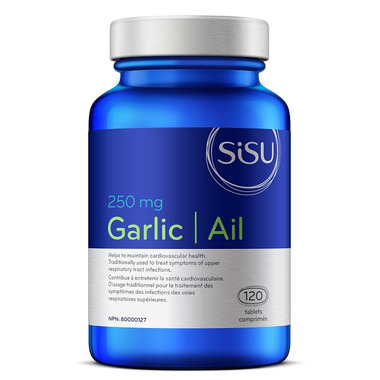 SISU Garlic helps to maintain cardiovascular health. Traditionally used to treat symptoms of upper respiratory tract infections.
Features:
Helps maintain cardiovascular health
Helps reduce elevated blood lipid levels (hyperlipidaemia)
Helps relieve the symptoms of upper respiratory tract infections (colds and the flu)
Source of the mineral antioxidant selenium
SISU Advantages:
High-potency garlic extract standardized to allicin potential
Enteric coated so the product breaks down in the intestines rather than in the stomach to prevent garlic odour after consumption
Each smooth tablet is approximately equivalent to one clove of fresh garlic
Contains no ingredients that are a source of gluten
Good Manufacturing Practices standards
Tested for guaranteed purity and potency
Tested for pesticides and herbicides
NPN approved
Ingredients:
Medicinal: (per tablet) Garlic (Allium sativum) (bulb) extract...250 mg - standardized to contain 2.5 mg allicin potential
Non-Medicinal: stearic acid (vegetable), calcium carbonate, silicon dioxide, sodium starch glycolate, magnesium stearate (vegetable), powdered cellulose, peppermint.
Enteric Coating: titanium dioxide, methacrylic acid copolymer dispersion.
Dosage:
(Adult) Take 1 to 2 tablets daily, or as recommended by a health care practitioner.