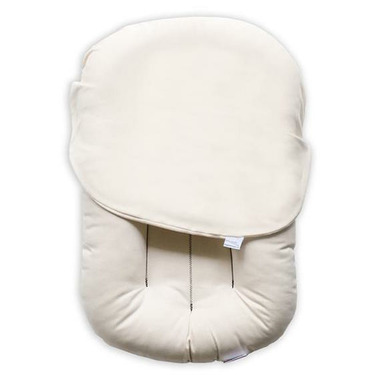 Snuggle Me Organic Lounger with Cover Natural
is rated out of
5
by
11
.
---
Description
THE NEXT BEST THING TO BEING HELD IN YOUR ARMS
The Snuggle Me® Lounger is a unique lounging pad designed to hug your baby's full body. This snuggling sensation is highly effective at calming and comforting your baby when you need extra support.

ORGANIC, SUSTAINABLE & ETHICALLY MADE
Snuggle Me® are in love with the idea and quality of organic, USA-made baby items. They entrust local, Minnesota seamstresses and fillers with the crafting of each Snuggle Me® Lounger. Made with GOTS certified organic, non-toxic, breathable, and hypoallergenic fabrics. Filled with polyester fiber fill for a fully machine washable lounger.
SAFETY IS THE #1 PRIORITY
As inventors of the original baby lounger, Snuggle Me® are leaders in their category for safety. As recommended by the AAP, never use any baby lounger as a sleep device. Never use any baby lounger unsupervised. Use the Snuggle me® Lounger for supervised lounging, tummy time or as a changing pad.

BEST BABY GIFT FOR NEW MOTHERS
When you can't be there, you can still send the reassuring support of a Snuggle Me®. Their baby lounger blends seamlessly into any home as a non-intrusive support aid, ready and waiting to give an extra hand.
Features:
Ages 0–9 months
29" x 17" x 4"
5 lb.
Hypoallergenic
100% organic cotton with 100% polyester fiber fill
Machine wash, tumble dry
Made in the USA
Kids' Wear
Global Organic Textile Standard certified. GOTS is one of the strictest certifications for organic materials on the market today and includes rigid controls of, among other things, chemical use and working conditions
Materials:
Snuggle Me Organic loungers are made with GOTS certified organic cotton fabrics and a hypoallergenic polyester fiber fill. GOTS Certified fabrics currently hold the highest and most strict material safety standard in the world. Snuggle Me also insist that every component of your Snuggle Me is USA-made, yes, even the very cotton threads are grown in the USA. This care and attention to detail matters deeply to them as mothers themselves.
Please note, all of Snuggle Me fabrics are organically dyed and can vary slightly in color. Colors may also appear slightly darker/lighter depending on the calibration of the device you are shopping with.
None of Snuggle Me's products contain: Flame Retardants, Ethylene Glycol, BPA's, Phthalates or Lead.
This product is excluded from any special promotions or coupons.
Highlights

Shipping & Returns
Rated

5

out of

5
by
Jordane
from
I was very happy to find the snuggle me on a canadian site! I found the pricing fair. I have a couple months before our baby is due, so haven't had the chance to use it, but have heard nothing but good things. The product feels of very good quality and is very soft. If you are looking for s snuggle me organic and are Canadian I suggest ordering it from well.ca
Date published: 2019-09-26
Rated

5

out of

5
by
Jessica
from
Best investment ever! Baby only slept 2 hours at a time in our arms or swing before she started using her snuggle me organic. She now sleeps 5-7 hours straight, wakes up for a feeding and changing then back to sleep for 2-3 more hours - we started using it when she was 1 week old after 4-5 sleepless nights. Highly recommend.
Date published: 2018-11-03
Rated

5

out of

5
by
Tiffany
from
haven't been able to use on our upcoming baby yet but it feels high quality and like baby will feel very snug in it. The cover it came with was very soft but I find they are expensive for extras but I have found a regular change pad cover works great over top of it and with all the prints available will make a great photo prop!
Date published: 2019-03-04
Rated

5

out of

5
by
Janelle
from
Love love love. So hard to find these in Canada and can't wait to use it. Incredibly soft and well made. Look forward to using it with our little one when they arrive. Hope Well.ca gets the toddler size soon too for when we need it.
Date published: 2018-11-23
Rated

5

out of

5
by
Mary
from
I purchased this for my granddaughter who has colic. My daughter has found that it has helped significantly and her baby has slept much better. I would highly recommend to anyone with a fussy baby.
Date published: 2019-01-29
Rated

5

out of

5
by
Sheryl
from
This is by far our favourite baby product. Our newborn loves hanging out in her snuggle me which gives mom her nice little breaks during the day. Amazing quality and the best price here on well.ca!
Date published: 2019-01-07
Rated

5

out of

5
by
Samantha
from
I absolutely love this. I was really lucky to get it before it went up in price on this website. I'm hoping and praying it goes on sale so I can buy one for my friend - that's how much I love it!!
Date published: 2018-09-12
Rated

5

out of

5
by
Megan
from
This product was my absolute FAVORITE baby item and a must have!! I cannot express how much I loved it. I loved that it cradled my baby much better than the Dockatot. I have told every single one of my friends and family members that are having babies that they NEED this in there life. You will love it knowing they are safe and makes for a much better sleep too inside the crib, amazing transitional tool!
Date published: 2018-10-10