Solar Raw
Solar Raw Organic Ultimate Kale Chips Red Peppercorn Ranch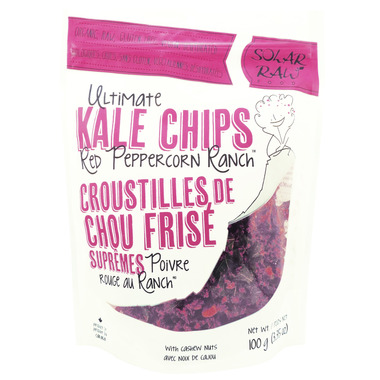 Solar Raw
Solar Raw Organic Ultimate Kale Chips Red Peppercorn Ranch
Description
A beloved chip flavour with some kick. Perfectly seasoned so the peppercorns compliment the vegan ranch flavour, rather than over power it. Can be enjoyed by both those who are spice thrill seekers and those who aren't.
Kale is a natural source of vitamins A, B6 and C. As well as a source of beta-carotene, calcium, copper, magnesium, manganese, potassium and dietary fibre. It's this combination of vitamins, minerals and phytonutrients that make kale a true super food.
Features:
Natural
Raw
Gluten Free
Vegan friendly
Never fried or baked, only air dried
Ingredients: Fresh kale*, pre-soaked cashew nuts*, pre-soaked sunflower seeds*, hemp seeds*, coconut sap* (Coco-Natura™ - low GI), Engevita® nutritional yeast, fresh lemon juice, fresh chives*, Filsingers™ apple cider vinegar*, Lumière de Sel® Himalayan Salt. *organic. Contains nuts.
Highlights

Shipping & Returns