Soup Girl Moroccan Lentil Soup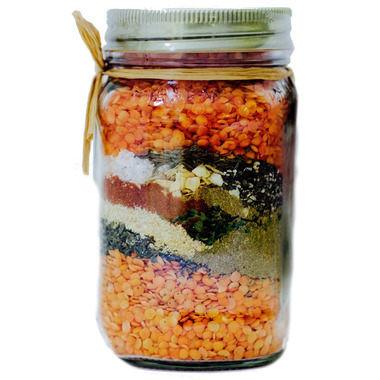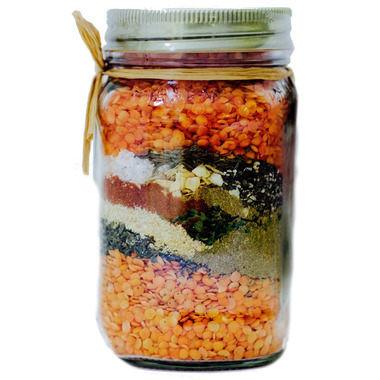 Soup Girl Moroccan Lentil Soup
Infused with cinnamon, cumin, parsley and mint, this Moroccan-inspired soup is fragrant and flavourful!
Spice Level:
3/5

How to Use:
Combine jar's contents and 8 cups of water in a soup pot. Bring to a boil, then cover, reduce heat and simmer for just over 30 minutes, or until lentils are tender.

Tasty Tips:
Once the soup is finished cooking, add some roasted Ontario carrots, a handful of raisins and a can of coconut milk. Garnish with an orange slice.
Ingredients: Red lentils, spices, herbs, onion, garlic, paprika, organic sea salt, black pepper.
Nutrition Facts
Serving size 1 cup (250 mL)
Amount Per Serving
Calories 140
% Daily Value*
Total Fat 1g 1%
Saturated Fat 0.16g 1%
Trans Fat 0g
Cholesterol 0mg 0%
Sodium 440mg 19%
Total Carbohydrate 25g 9%
Dietary Fiber 5g 18%
Total Sugars 1g
Includes 0g Added Sugars 0%
Protein 9g 18%
Vitamin D 0mcg 0%
Calcium 52mg 4%
Iron 3.78mg 20%
Potassium 0mg 0%
Vitamin A 4%
Vitamin C 2%
*The % Daily Value (DV) tells you how much a nutrient in a
serving of food contributes to a daily diet. 2,000 calories a
day is used for general nutrition advice.