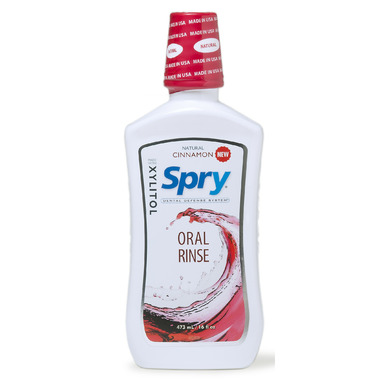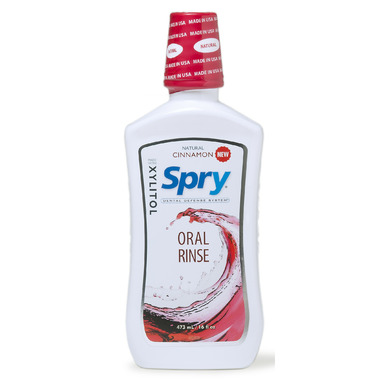 Spry Oral Rinse gives you fresh breath without the burn! Many mouthwashes rely on a high alcohol content combined with harsh chemicals, leaving the mouth burning. Unlike most common mouthwashes, Spry Oral Rinse boasts a rich supply of xylitol and low alcohol content together with an herbal blend that refreshes the mouth, cleans and protects teeth and soothes irritated oral tissues.

Xylitol is a naturally occurring sweetener derived from the fibrous parts of plants. It has a unique molecular structure that affects the ability of bacteria to attach to the surface of teeth and gums. Its pH-neutral formula also helps preserve an environment that controls the negative effects of enamel-eating acid.

Ingredients: Purified water, Xylitol, Grain alcohol (Ethanol), Cinnamon flavor (blend of natural flavors), Vegetable glycerin (derived from non-GMO palm fruits), Cassia Extract, Calcium glycerophosphate, Aloe Barbadensis juice concentrate (Aloe Vera), Calendula Officinalis flower extract (Marigold), Chamomilla Recutita extract, Echinacea Pupurea extract, Olea Europea leaf extract (Olive), Thymus Vulgaris extract (Thyme)



Stephanie:
more than a year ago
One of the rare non mint-flavored oral rince on the market but it wasn't for me. Way too strong. Really burn my mouth. I'll continue using it for a shorter amount of time but I won't be repurchasing it. If you can stand strong flavors though, go with it. The taste is great.
Page
1