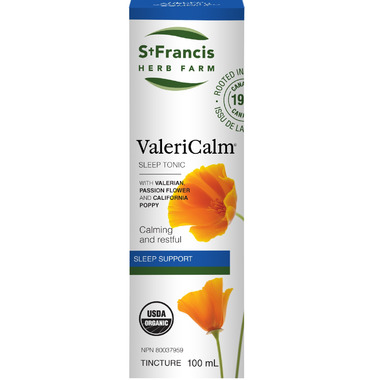 Description
ValeriCalm is a tincture for those experiencing tension, anxiety, and sleep deprivation. The antispasmodic and sedative actions of ValeriCalm help to soothe and relax the nervous system and muscles.

Suggested Usage: Adults: Take 1.3 ml (40 drops) 3x daily and at bedtime, in a little water on an empty stomach.

Cautions and Warnings: Consult a health care practitioner before use if you have been diagnosed with a medical condition or are taking prescription medication. Driving, machinery operation, and alcohol consumption are not recommended for up to 2hrs after taking ValeriCalm®.

Contraindications: Do not use if pregnant or breastfeeding.
Highlights

Ingredients
Passion Flower (Passiflora incarnata), Valerian (Valericana officinalis), California Poppy (Eschscholzia californica), Chamomile (Matricaria chamomilla), Hops (Humulus lupulus), Motherwort (Leonurus cardiaca) Non-Medicinal Ingredients: Distilled water, Grain alcohol, Vegetable glycerine
Shipping & Returns