Swiss Natural Probiotic Age Adult
7 Billion C.F.U
30 Vegetable Capsules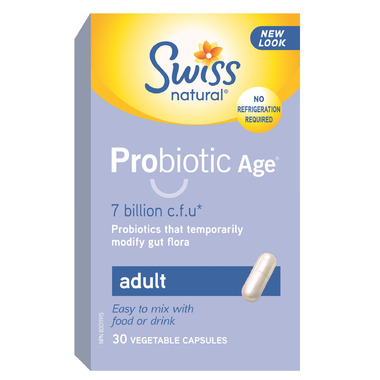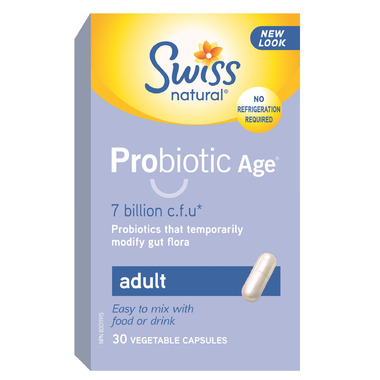 Swiss Natural Probiotic Age Adult
7 Billion C.F.U
30 Vegetable Capsules

Swiss Herbal Remedies has been offering probiotics for decades, before they became the newest trend. Why? Because everyone needs help to rebalance their intestinal tract at one time or another.

Each contains multiple strains of friendly bacteria for optimum intestinal health for each stage of your life. With no refrigeration required and blister-packed for freshness and portability, now there is no excuse not to take yours today.

Probiotic Age Adult:
5 strains
7 billion active cells
Health Concerns:
Anti-Inflammatory, Crohn's Disease, Diarrhea, Digestive Aids, Enteritis, Gastro-Intestinal Inflammation, Intestinal Health, Probiotic Supplements.

Genders: Female - Male

Ages: Adult 19-49

Recommended Use:
Probiotic that contributes to a natural healthy intestinal flora.

Recommended Dose
Adults (age 19-50): Take 1 capsule daily on a full stomach or as directed by healthcare practitioner. Adults with difficulty swallowing, open capsule and add content to cold food or liquid.

Warning:
Do not use if you are experiencing nausea, fever, vomiting, bloody diarrhea or severe abdominal pain or if you have an immune-compromised condition (e.g. AIDS, lymphoma, patients undergoing long-term corticosteroid treatment). Discontinue use and consult healthcare practitioner if symptoms of digestive upset (e.g. diarrhea) occur, worsen, or persist beyond 3 days. May contain traces of dairy product. Separate from administration of antibiotics by at least 2 hours.

Non-Medicinal Ingredients:
Ascorbic acid, magnesium stearate, fructooligosaccharide (FOS) inulin, potato starch, vegetable capsule.

Additives:
No artificial flavours, colours or sweeteners. No preservatives, corn, gluten or wheat.
Please be advised that Well.ca follows manufacturer guidelines for storing & shipping probiotics.