Swiss Natural Total One Kids Multi-Vitamin & Mineral
Iron Free
60 Chewable Tablets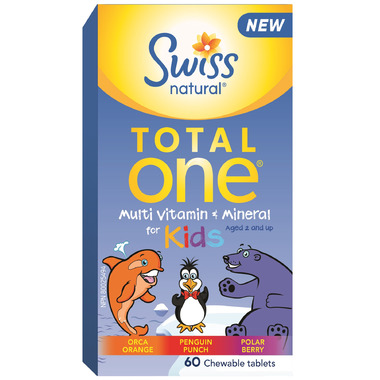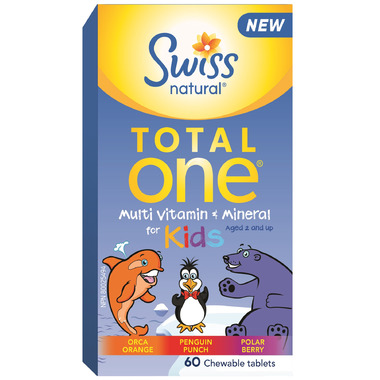 Swiss Natural Total One Kids Multi-Vitamin & Mineral
Iron Free
60 Chewable Tablets
Factors in the maintenance of good health for kids aged 2 and up. Helps normal growth and development.

Calcium:
99% of total body calcium is found in bones and teeth
Functions in mineralization of bone and cell communication for bone building
Helps in the development and maintenance of bones and teeth especially in childhood, adolescence and young adulthood

B vitamins including B1, B2, B3, B6, B12, Folic Acid and Pantothenic Acid help the body to:
metabolize proteins, carbohydrates and fats to aid in energy production
maintain normal growth and development
form tissues
form red blood cells

Recommended Dose: Kids aged 2 and up chew 1 tablet daily with food or as directed by a healthcare practitioner.