Tangle Teezer
Tangle Teezer The Ultimate Detangler Liquorice Black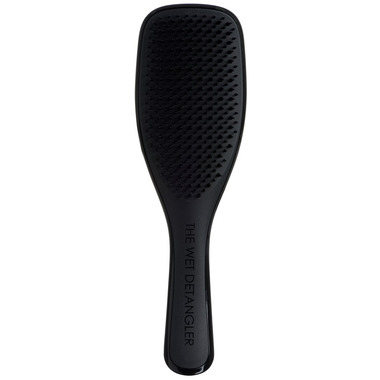 Tangle Teezer
Tangle Teezer The Ultimate Detangler Liquorice Black
Tangle Teezer The Ultimate Detangler Liquorice Black
is rated out of
5
by
10
.
---
Description
Created by celebrity colourist Shaun P with 30 years experience - The Tangle Teezer is a multi award winning detangling hair brush. The Tangle Teezer banishes tangles and knots with minimum fuss, breakage or damage with uniquely designed teeth that glide through your hair leaving it soft and shiny without tugging and pulling.

A revolution in hair care!

Rated

5

out of

5
by
Cinnamon
from
Wet hair detangler
Important note: the package states this brush is for wet hair and isn't meant to be used with heat. This brush detangles my hair easily and with much less effort and pain.This seems like much better quality than the drugstore brand detangling brush I have. I prefer this to the brush without the handle, because I often dropped that one a lot or sent it flying across the room! :)
Date published: 2021-06-18
Rated

5

out of

5
by
Amanda. S
from
Love using it on my wet hair when I get out of the tub. Detangles very well and very light weight.
Date published: 2019-03-06
Rated

5

out of

5
by
NH
from
Best brush ever!!!
I will never go back!! My hair took a long time to brush as it would have lots of knots and usually my other brushes would break my hair. Not this brush!! This brush brushes it in seconds and hardly any breakage. I was sceptical but will now recommend nothing other than this and the ultimate finish tangle teezer.
Date published: 2020-04-15
Rated

5

out of

5
by
Tobes
from
Nice!
I was looking for something that would be very gentle but effective on my thick, curly hair, and so far this brush is working great! I put conditioner in my hair and let it sit for a bit, then gently use the brush to detangle, and it quite easily gets through my thick, coarse hair without pulling too much.
Date published: 2021-05-11
Rated

5

out of

5
by
BirdieBirdie
from
fantastic brush!
I had high hopes for this detangling brush after reading other reviews and it did not disappoint in real life! It is such a breeze to brush my wavy hair, wet or dry, the brush is indeed so gentle it feels like nothing. My hair is less frizzy too, which is a bonus.
Date published: 2021-05-06
Rated

5

out of

5
by
Patricia
from
I totally love this brush. It detangles my hair so easily and gently. I am not sure if it doesn't break my hair as the same as other brushes, but for sure if it does it, I don't feel at all. I totally recommend it
Date published: 2019-11-08
Rated

5

out of

5
by
Catherine
from
Just was I was looking for: a great brush for detangling thick, long, curly hair. Works great and removes most of the knots. Finish up with a wide-toothed comb.
Date published: 2019-09-02
Rated

5

out of

5
by
Stephanie
from
Wish I heard of this brand sooner. I have long, thick hair and this brush goes through my hair effortlessly, without damage - even when my hair is wet.
Date published: 2019-08-09