The Ordinary
The Ordinary 100% Organic Cold-Pressed Rose Hip Seed Oil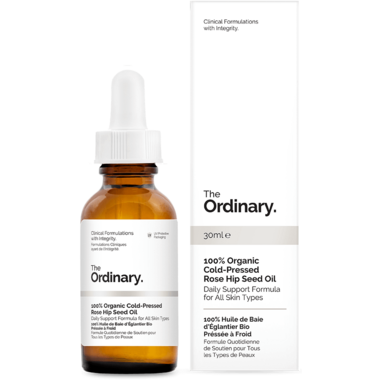 The Ordinary
The Ordinary 100% Organic Cold-Pressed Rose Hip Seed Oil
30 mL
The Ordinary 100% Organic Cold-Pressed Rose Hip Seed Oil
is rated out of
5
by
52
.
---
Description
The Ordinary 100% Organic Cold-Pressed Rose Hip Seed Oil is a daily support formula for all skin types. This formulation uses 100% pure Rosehip Seed Oil that is both cold-pressed and organic. Rosehip Seed Oil is rich in linoleic acid, linolenic acid and pro-vitamin A, all of which degrade when the oil extraction process involves heat. While cold-pressed extraction is complex, it preserves all of the quality of this important oil which can help to reduce the appearance of aging.
Directions:
Apply once a day to the face, ideally at bedtime after application of water-based treatments.
vegan, cruelty free, water-free, alcohol-free, silicone-free, nut-free

Highlights

Ingredients
Shipping & Returns
Rated

5

out of

5
by
Shazzle
from
What is this magic?
Oh my, I am in love with this product and cannot believe how cheap it is!! I use it before bed and wake up to smooth baby face skin. It has reduced my acne scarring and hyperpigmentation, usually my skin takes a very long time to heal even a simple acne scar. I haven't noticed any pillowcase staining but also don't have white pillows, I would let it sink in a bit regardless before bed just like any oil. I have naturally brown skin that is combination with an oily nose and forehead and dry cheeks. This product is AMAZING.
Date published: 2020-08-24
Rated

5

out of

5
by
MG
from
This purchase was a very good experience - the oil goes on silky and absorbs quickly, leaving my face far less sticky than other rosehip oils I've used. It also seems to have much less natural scent than other brands, it's not quite fragrance-free but its scent is pleasant and subtle. The price is excellent - less than half of what I would've expected, and zero compromise on quality. I've already bought more, and will be trying other products from The Ordinary!
Date published: 2020-09-11
Rated

4

out of

5
by
Patricia
from
Skin saver
I got an awful sunburn on my shoulders and creams and aloe were not helping so as a last resort I tried a few drops of The Ordinary's Rose Hip Seed Oil. The burns were bad and after this oil they healed - not peeled. Also for reviewers complaining about the scent - its because Rose Hip oil is full of fatty acids (similar to oily fish, flax seeds, etc.).
Date published: 2020-05-15
Rated

5

out of

5
by
Zawacki92
from
Rose Hip Love
The Ordinary 100% Organic Cold-Pressed Rose Hip Seed Oil is truly a staple in my night time routine. I use about 3-4 drops, which makes the bottle last for so long, and I lightly press it into my skin to help absorption. On days where I am tired, puffy, dry, etc... I use the oil with my Face Roller for extra care! I will always use this daily, and you will see results in at least 2 weeks! Must Buy!
Date published: 2021-02-23
Rated

5

out of

5
by
S
from
Love it
I love this hose hip seed oil! I bought it a while ago, but it seemed to go bad after a while because it lost it's yellow colour and smelled strange. I ended up getting another one though, because I really loved how it helped my skin. It seems to help with moisture, scars, acne, and oil!
Date published: 2021-04-15
Rated

5

out of

5
by
Cmci
from
Awesome product.
I am so happy with this product. I have dry mature skin and this product is light and really relieved dry spots on my face. I would highly recommend.
Date published: 2021-01-13
Rated

5

out of

5
by
Chels
from
Buy this
I'm so happy that I added this to my skincare routine. It is one of my favourite products from The Ordinary.
Date published: 2020-05-11
Rated

4

out of

5
by
Cherrypit
from
Great purchase
Ordinary skin products are simple ingredients at an amazing price. So glad I have slowly been adding them to my skin routine. I use this at night applying it after cleansing. By the time end up in bed it has absorbed into my skin so I have not had a problem staining my pillowcase. I would purchase this again.
Date published: 2021-04-20