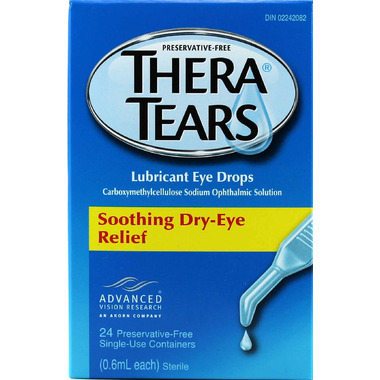 24 x 0.6 mL
TheraTears Lubricant Eye Drops
is rated out of
5
by
12
.
---
Description
TheraTears Lubricant Eye Drops provide preservative-free soothing dry-eye relief.

Indications: For use to relieve dryness of the eye, or as a protectant against further irritation.
Medical Ingredients: Sodium Carboxymethylcellulose (0.25%)
Non-medical Ingredients: hypotonic base containing purified water, sodium chloride, potassium chloride, sodium bicarbonate, calcium chloride, magnesium chloride, sodium phosphate and borate buggers.

Made in Canada.

Shipping & Returns
Unfortunately, due to the nature of this item, we cannot accept any returns.
We are only able to ship this item to Canadian customers.
Click here for more information
Rated

4

out of

5
by
renee
from
Only ones that work
Only drops that work for me. I've tried so many other brands, preservative and preservative free. This is the only one that doesn't just further irritate the eye and works preventatively too if I make an effort to use them BEFORE my eyes start to feel extremely dry. Should probably see an eye doctor as my dry eye is out of control. But again this is the best thing I've found so far. The newer packaging is a little prettier. They do get expensive if you need to use them more than once a day, or even once a day. I tried the Systane preservative free vials which were even more expensive and did damage to my eyes.
Date published: 2020-06-18
Rated

5

out of

5
by
Heather
from
The single use are better than anything I have every used including Theratears in a bottle. These are better than the bottled ones. One applicator has about six drops per eye in it and it keeps both eyes clear and comfortable for four to six hours. I have tried EVERYTHING, over the count, prescription. These are awesome.
Date published: 2016-04-19
Rated

4

out of

5
by
Robert D.
from
For most people, single use containers are no more valuable than drops in a bottle & since they are a lot more expensive, only people who need them should buy them. You need this if your eyes are particularly sensitive or if you use drops a lot and don't want to get too much preservative in your eyes. If you only use drops one or two times a month these are a better buy since once a bottle is opened it only lasts 30 days, while single drops remain fresh until the container is opened. TheraTears single use containers contain 6ml. Most competitors' single use containers only contain 4ml, That means you get more drops for your buck. In many cases you can use half in the morning and half in the evening - but if your eyes are extraordinarily sensitive, use the whole container all at once because by evening bacteria may have entered the container. Nota Bene: These containers cannot be resealed. The TheraTears website is great -- lots of scholarly articles.
Date published: 2013-02-11
Rated

4

out of

5
by
Karine
from
After lasik surgery my eyes were initially quite dry. I tried using many different eye drops, but found these to be the most soothing. The individual containers are generous and provide multiple applications (to be used within 5 mins).
Date published: 2011-03-27
Rated

5

out of

5
by
Alison
from
I have extreme dry eye syndrome (no tears in one eye at all). I have tried many different drops and since finding these, I've stuck with them. They are pricey, but worth it for the relief they give!
Date published: 2013-07-25
Rated

5

out of

5
by
Jennifer
from
For someone who uneasy applying eye drops these are very easy to apply and work effectively. The small vials make them easy to carry and keep at home, in my purse and at the office!
Date published: 2016-08-07
Rated

5

out of

5
by
Joe
from
I love these. Have been looking for the right moisturizer for my eyes for years. This one doesn't leave any residue and actually helps to relieve some redness.
Date published: 2012-05-07
Rated

4

out of

5
by
Mimi
from
I have been using this for years for my dry sensitive eyes. I have never experienced any negative reactions to the ingredients.
Date published: 2012-02-03