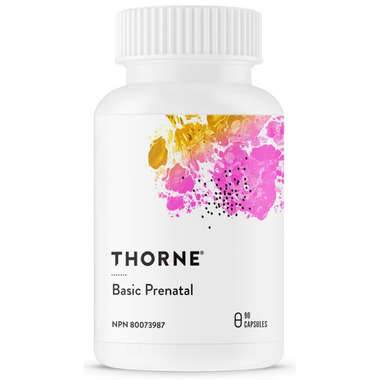 Description
Basic Prenatal is a comprehensive formula designed for the special nutritional needs of pregnancy. It contains nutrients in their most easily absorbed and utilized forms that are essential for the mother and child. Sometimes prenatal formulas can cause nausea; however, because of the use of moderate amounts of highly bioavailable nutrients, Basic Prenatal is easy on the stomach.
Recommended Dose (for pregnant and lactating women):

Always read and follow the label.
Take 1 capsule twice daily or as recommended by a healthcare practitioner.
Take with food. T
ake a few hours before or after taking other medications or natural health products.
Risk Information:
For adult use only. Keep out of reach of children. There is enough drug in this package to seriously harm a child. This product is available in a child proof package. Some people may experience constipation, diarrhea, and/or vomiting.
Consult your health professional prior to use if you are taking blood thinners. Hypersensitivity (e.g. allergy) has been known to occur; in which case, discontinue use.
Do not use if security seal inside the cap is broken. Store tightly sealed in a cool, dry place.
Highlights

Ingredients
Medicinal Ingredients: Beta-Carotene ... 600 mcg Biotin ... 16.7 mcg Boron (Glycinate Complex) ... 334 mcg Calcium ... 60 mg Chromium (Nicotinate Glycinate) ... 34 mcg Copper (Bisglycinate) ... 667 mcg Folate ... 333 mcg Iodine (Potassium Iodide) ... 50 mcg Iron (Bisglycinate) ... 15 mg Magnesium (Citrate and Malate) ... 30 mg Manganese (Bisglycinate) ... 1.67 mg Molybdenum (Glycinate) ... 17 mcg Selenium (Selenomethionine) ... 16.7 mcg Thiamine ... 1.67 mg Vitamin A (Palmitate) ... 201 mcg Vitamin B12 (Methylcobalamin) ... 67 mcg Vitamin B2 (Riboflavin 5'-Phosphate Sodium) ... 1.67 mg Vitamin B3 (Niacinamide) ... 10 mg Vitamin B5 (Pantothenic Acid) ... 6 mg Vitamin B6 (Pyridoxal 5'-Phosphate) ... 4 mg Vitamin C (Ascorbic Acid) ... 50 mg Vitamin D3 ... 8.3 mcg Vitamin E (d-Alpha-Tocopheryl Acid Succinate) ... 11.2 mg Vitamin K1 ... 34 mcg Zinc (Bisglycinate) ... 8.3 mg
Shipping & Returns