Trophic
Trophic Chelazome Calcium Magnesium 1:1
Amino Acid Chelate 120 Capsules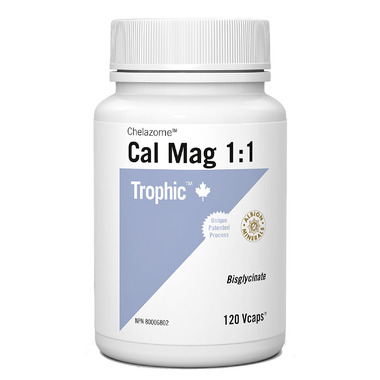 Trophic
Trophic Chelazome Calcium Magnesium 1:1
Amino Acid Chelate
120 Capsules
---
Description
Up to 99% of the calcium in the body is found in the hard tissues (tooth and bone). The remainder is distributed widely throughout the soft tissues and organs, performing a variety of important functions. Signs of magnesium deficiency include muscle tics and twitches, irregular heartbeat, convulsions, seizures, tremors and glandular disturbances. Trophic's Calcium and Magnesium are true chelated minerals and and have a combined molecular weight of about 850 daltons. This means that this form of the minerals is the most readily assimilated by the body because it is small enough to pass through the intestinal wall and is absorbed intact. The amino acids are then metabolized and the minerals are released into the bloodstream for immediate use without the need for Vitamin D.
Recommended Use:
For the maintenance and development of healthy teeth and bones.
Directions:
Adults, take 4-6 Vcaps daily or as recommended by a healthcare practitioner.
Medicinal Ingredients (per capsule):
Calcium (Bisglycinate) (Amino Acid Chelate) ... 410 mg
Magnesium (Bisglycinate) (Amino Acid Chelate) ... 410 mg
Providing:
Elemental Calcium ... 75 mg
Elemental Magnesium ... 75 mg
Non-Medicinal Ingredients:
Microcrystalline cellulose, cellulose.
No added yeast, wheat, soy, gluten, corn, sugar, dairy, artificial colors, preservatives or animal products.
Cautions and Warnings:
Avoid using two hours prior to or until four hours after taking other medications. Over 350 mg of magnesium may cause diarrhea in some individuals. Manufactured under the unique Albion Laboratories' process (patented and patents pending) whereby the minerals are chelated by amino acids, peptides and polypeptides.
Highlights

Shipping & Returns