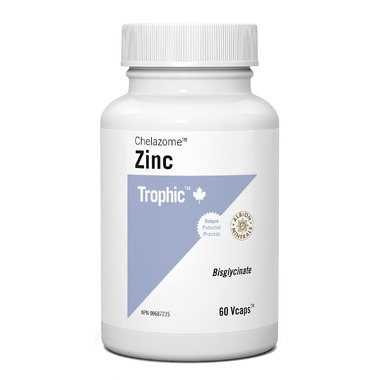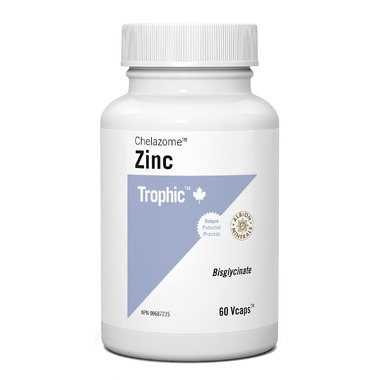 Zinc is an essential trace mineral vital for the normal function of the pancreas, prostate gland and for reproductive organgrowth. It plays a specific role in protein synthesis and is thus essential for cell growth. It plays an important role in burn and wound healing. Within body cells, zinc is complexed with a variety of peptides, amino acids and enzymes, such as superoxide dismutase, an antioxidant enzyme which has a role in combating free radicals in the body.
Recommended Use:
Helps in tissue formation. Helps the body to metabolize proteins, fats and carbohydrates.

Directions:
Adults, take one VcapTM daily or as recommendedby a healthcare practitioner.
Medicinal Ingredients (per capsule):
Zinc (Bisglycinate)(Amino Acid Chelate) ... 155 mg
Providing:Non-Medicinal Ingredients:
Microcrystalline cellulose, magnesium stearate, cellulose.
No added yeast, wheat, soy, gluten, starch, corn, dairy, sugar, artificial colors, preservatives or animal products.
Cautions and Warnings:
Zinc supplementation can cause copper deficiency. Consult a healthcare practitioner if you are unsure whether or not you are taking adequate amounts of copper. Manufactured under the unique Albion Laboratories' process (patented and patents pending) whereby the minerals are chelated by amino acids, peptides and polypeptides.


Alison:
a few months ago
This is the best Zinc supplement I've used and it's hard to find. Glad that Well.ca has it! For me it absorbs and works better than other forms, such as Zinc Citrate. I use it to help balance out my Zinc-Copper balance because I have a copper IUD. I find when I don't take it I feel more tired and don't perform as well at the gym. Zinc is supposed to help energy and libido because it aids testosterone production. It can also be used short-term in higher doses to help fight off a cold. I find this supplement works for all these things for me!
1