Trophic Greens Concentrate with Antioxidants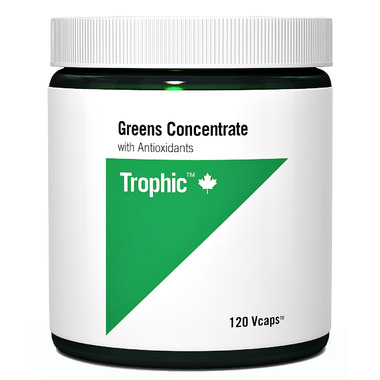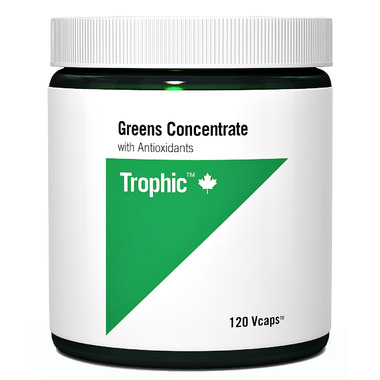 Trophic Greens Concentrate with Antioxidants
Trophic's Greens Concentrate is a special, potent combination of 'superfoods' that will help prevent harmful damage from free radicals and protect DNA and cells, while promoting the immune system to function optimally. Trophic Greens Concentrate was formulated to help relieve symptoms of fatigue, exhaustion and irritability by helping to boost energy levels and nutrient status, giving the body the capacity and endurance to handle day-to day stress. It contains the following super foods:
Chlorella is a great source of plant nutrients and it contains significant amounts of protein, nucleic acids, vitamins, minerals, carbohydrates and lipids. It has been used to help increase the health and nutrient status of individuals and has been found to have antiviral, antifungal, antibacterial effects in recent animal studies. Chlorella has been used to help the tolerability of chemotherapy and radiation in patients with cancer, as well as those with lower nutrient status due to high demands, such as physical and mental stress.

Much like chlorella, spirulina is a great dietary source of many nutrients and is very high in protein, vitamins and minerals. Spirulina increases immune function.
Kamut is a grass often used as a flour alternative for individuals who have gluten or wheat sensitivities. It contains high amounts of protein, vitamins, minerals and other nutrients.

Barley is a nutritious food that helps to regulate and improve lipid profiles. It helps to lower high cholesterol and triglycerides, alongside preventing cardiovascular disease.
Beets are naturally full of antioxidants and have been used as supportive for the liver because of their betaine content.
Açaí (pronounced AH-sigh-EE) berry is the fruit from a palm tree found native to South America. It has a very potent antioxidant component as a result of the numerous polyphenols and anthocyanins it contains. In fact, it has more antioxidant power than cranberries, raspberries or blueberries. Other significant constituents of açaí include a rich amino acid/protein profile, as well as calcium, phosphorus, iron and thiamine.
The newly recognized active constituent of pomegranate juice is ellagic acid, now widely known for its cardiovascular protective properties and the antioxidant power of pomegranate slows the formation of atheroschlerotic conditions.
Recommended Use:
For the maintenance of good health.
Directions:
Adults, take 1-3 vcaps as a dietary supplement. Best to take first thing in the morning.

Medicinal Ingredients (per capsule):
Premium Natural Spirulina ... 363 mg
Organic Kamut Juice Powder 33:1 ... 66 mg
Organic Barley Juice Powder 33:1 ... 66 mg
Goji Berry Powder 3:1 (Lycium barbarumL.) ... 66 mg
Organic Red Beet Juice Powder 4:1 ... 33 mg
Organic Chlorella (18% CGF Cracked Cell) ... 33 mg
Acai Berry Extract Powder 4:1 (Euterpe oleraceae) ... 16.5 mg
Pomegranate Juice Powder ... 15.18 mg
Dairy Free Probiotic Culture ... 1.32 mg
(L. acidiphilus RO52 and L. rhamnosus RO11 providing 118.8 Million Active Cells)
Non-Medicinal Ingredients:
Cellulose.
No added artificial colors, flavors, preservatives, sugar, starch, soy, wheat or yeast. Each Vcap contains less than 0.013 mg of gluten.