Tylenol Children's Complete Cold, Cough & Fever Nighttime Suspension Liquid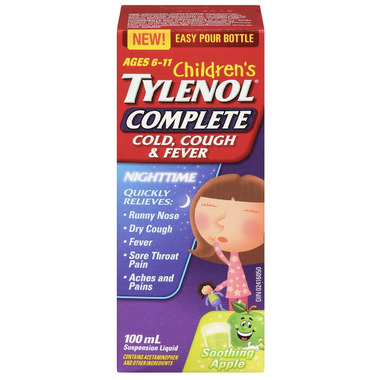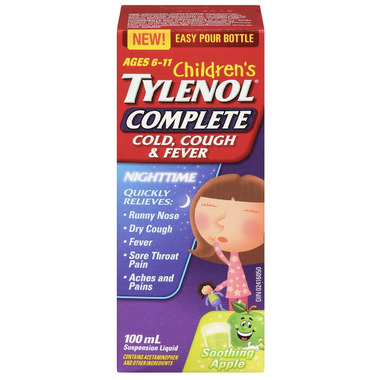 Tylenol Children's Complete Cold, Cough & Fever Nighttime Suspension Liquid
Children's TYLENOL® Complete Cold, Cough & Fever Nighttime Suspension Liquid helps relieve your child's cold, cough, and fever symptoms for a better night's rest.
Each 5 millilitres or 1 teaspoon contains 160 milligrams of acetaminophen for relief from aches, pain, and fever; 5 milligrams of dextromethorphan hydrobromide for cough suppression, and 6.25 milligrams of diphenhydramine hydrochloride for relief of runny noses and sneezing.
This apple-flavoured liquid lets your child rest without the aches, pains, and fever associated with colds, coughs, and flu.
Children's TYLENOL® Complete Cold, Cough & Fever Nighttime Suspension Liquid comes in a 100-millilitre bottle.

Directions:
Read the complete label and leaflet prior to use and follow all label instructions. Do not give with other products containing any of these ingredients, salicylates, or other cough/cold or pain/fever medications. Do not use this product in children under six years of age. Dosage (6 to under 12 years): For accurate dosing, follow instructions carefully. Shake well before use. Remove cap and squeeze dose into dosing cup. The enclosed measuring cup has been specially designed for use with this product. Use only the enclosed measuring cup to dose. Give 10 millilitres (2 teaspoons) every four to six hours, as needed. Do not give more than five doses per day.

Medicinal Ingredients
(each 5 mL or 1 teaspoon contains): Acetaminophen 160 mg, dextromethorphan hydrobromide 5 mg, diphenhydramine hydrochloride 6.25 mg.

Non-Medicinal Ingredients:
Carboxymethylcellulose sodium, cellulose, citric acid, corn syrup, D&C Yellow #10, FD&C Blue #1, flavour, glycerin, polysorbate 60, propylene glycol, sodium benzoate, sorbitol, water, xanthan gum.