Udo's Choice Pet Essentials For Cats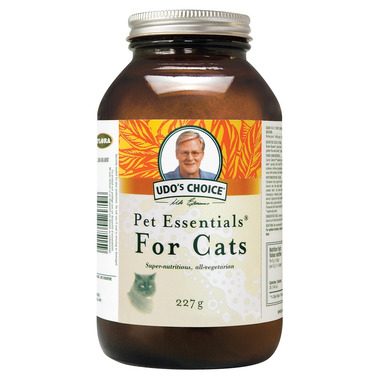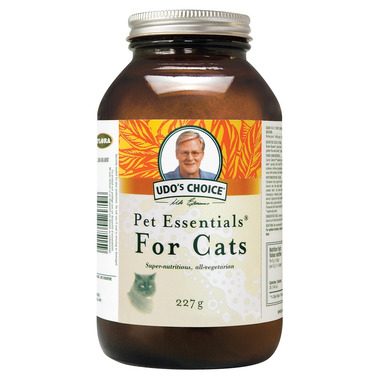 Udo's Choice Pet Essentials For Cats
Maintaining a healthy diet is just as important for us as it is for our furry friends! Processed pet food may not always have the ideal amounts of fiber and other nutrients. Udo's Choice Pet Essentials for Cats offers the optimal nutrients to supplement your cat's normal diet. This supplement will energize your pet, promite regularirty and revitalize hair coats. Your pet deserves the best- naturally!

Features:
A comprehensive array of vitamins, minerals, enzymes, greens, phytonutrients and other trace elements to help fortify your pet's diet
Supplies omega-3 and omega-6 Essential Fatty AcidsProvides soluble and insoluble fibre
Contains a blend of over 30 nutrient-rich foods and superfoods including cereal grasses, flaxseed, bee pollen, red beet, sprouted soybean, kelp, dulse and a wide variety of other herbs and phytonutrients
Provides premium greens from barley grass, alfalfa, oat and rye grasses, plus chlorella, broccoli, kale and parsley
Supplies valuable fiber from certified organic defatted flax, sesame and sunflower seed as well as oat bran, rice bran and whole golden flaxseed
Naturally occurring active enzymes makes Pet Essentials® easy to digest
All vegetarian formula free of wheat, yeast, artificial flavours, additives and preservatives
Each bottle is nitrogen flushed to ensure freshness
Packaged in environmentally friendly amber glass bottles
Suggested Use:
Add 2.5 g (1 tsp) per day to your pet's regular food. Give free access to water.
For kittens and small cats: (up to 2.25 kg/5 lbs): Add 1.75 g (½ tsp). For optimum results: Double the amount for 45 days and add ¼ tsp of Udo's Choice® Udo's Oil™ 3•6•9 Blend.
For optimal freshness refrigerate after opening and use within 90 days.
UDO'S CHOICE® PET ESSENTIALS® FOR CATS consists of whole food concentrates, herbs and phytonutrient-rich vegetables to give your pet a glossy coat and healthy skin, and to enhance its general appearance. Each 2.5 g (1 tsp) serving provides a tasty blend of:
FATS AND FIBRE: 93.5% (2,337 mg) from:
defatted brown flax seed, defatted sunflower seed, defatted sesame seed, rice bran, oat bran, whole golden flax seed.
FOOD CONCENTRATES: 4.3% (108 mg)
carrot, Soyforce™ powdered sprouted soybeans, tomato, kale, beet, broccoli, kelp, Udo's Choice® Ultimate Digestive Enzyme (amylase, lipase, protease, cellulase, glucoamylase, invertase, malt diastase, lactase, pectinase [with phytase] and bromelain, in a base of beet root powder), artichoke.
PHYTONUTRIENTS: 1.8% (45 mg) from:
ginger, hawthorn berry, milk thistle, burdock root, red clover, parsley, bee pollen, chrysanthemum, yucca, lemon grass, dandelion root and leaf, rosemary, thyme, sage, dulse.
GREENS: 0.4% (10 mg)
PINES™ barley, alfalfa, oat and rye grass powders, chlorella.