Udo's Choice Super 5 Plus Lozenge Probiotic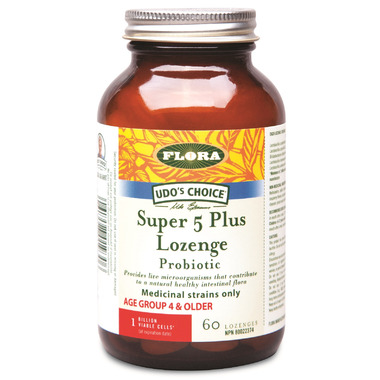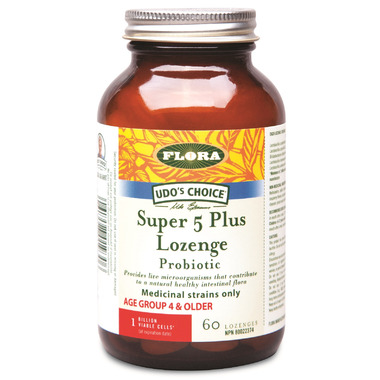 Udo's Choice Super 5 Plus Lozenge Probiotic
These pleasant-tasting lozenges freshen breath by supporting proper oral and intestinal health. They provide friendly bacteria to encourage the proper balance from the mouth to the digestive tract. This unique combination of 5 friendly bacteria contains 1 billion viable cells per lozenge at date of expiry. Minimum 2 billion viable cells per lozenge at the time of manufacture. Refrigeration ensures maximum potency and stability of active bacterial cells.
Adults:
Dissolve 1 lozenge gently in mouth after meal, 1-2 times daily.

Children:
Dissolve 1 lozenge gently in mouth after meal, once daily

EACH LOZENGE CONTAINS:MEDICINAL INGREDIENTS
:COLONY FORMING UNITS (CFU)
Lactobacillus acidophilus HA-122 600 million
Lactobacillus casei HA-108 150 million
Bifidobacterium bifidum HA-132 150 million
Lactobacillus rhamnosus HA-111 50 million
Lactobacillus salivarius HA-118 50 million
NON-MEDICINAL INGREDIENTS:
Maltodextrin, xylitol, microcrystalline cellulose, natural raspberry flavour, ascorbic acid, citric acid, magnesium stearate (plant-source) and silicon dioxide
This product has come into contact with milk and soy lecithin. Do not use this product if you have a milk or soy allergy. Discontinue use and consult a health care practitioner if symptoms of digestive upset (e.g. diarrhea) occur, worsen, or persist beyond 3 days. Keep bottle refrigerated.
Vegetarian, Gluten Free, Yeast Free
Please be advised that Well.ca follows manufacturer guidelines for storing & shipping probiotics. This product will be shipped with an ice-pack to maintain product efficacy.




Marius:
about a year ago
Have found this product on Well.ca, after searching for similar products online. The price is very good compared with similar products and seems to be working as expected. Have to mention that I was impressed with the details put in packaging... meaning that it was delivered, but because it requires to stays in the fridge, the package included a frozen pad.
Page
1