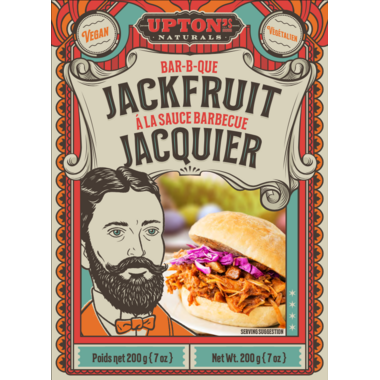 200 g
Upton's Naturals Jackfruit in Barbecue Sauce
is rated out of
5
by
16
.
---
Description
Their tangy Bar-B-Que Jackfruit makes a great sandwich topped with coleslaw, and also goes great on a salad, in a wrap, or over rice.
Highlights

Ingredients
Jackfruit, tomato paste, vinegar, blackstrap molasses, filtered water, onion, cane sugar, salt, garlic, black pepper, chili powder, paprika, liquid smoke.
Shipping & Returns
Rated

5

out of

5
by
Samantha
from
Loved this jackfruit. This is definitely the more convenient option compared to the canned jackfruit (which is still tasty, just takes more time to prepare). You literally just throw this in a pan with some oil and/or put it in the oven with something and it's ready. I used it on top of nachos and it was delicious. Definitely recommend all vegetarians/vegans to try this, or someone who is thinking about going vegetarian/vegan! It is a great meat alternative.
Date published: 2018-02-23
Rated

5

out of

5
by
Maeghan
from
I've recently gone vegetarian, and tried this on pizza - so good! It really does resemble pulled pork. Only downside is there's minimal protein in it since it's a fruit.
Date published: 2017-10-31
Rated

5

out of

5
by
artsygirl97
from
Loveeee! Buy again and again
I absolutely adore this bbq jackfruit, I've purchased this plenty of times, and am always pleased with it. If you add a touch of sweetener to it, it helps to bring out some of the BBQ flavour. I appreciate that Upton's doesn't sugar this down, which is great for keto or those that steer clear of sugar. It's great in pulled "pork" sandwiches!
Date published: 2020-01-09
Rated

5

out of

5
by
Sabine
from
Great flavour and texture, easy to prepare not to spicy only one concern spices are not constant from one package to the next. Price point also excellent compared to similar products. Will buy lot's more.
Date published: 2018-10-10
Rated

3

out of

5
by
Sonia
from
If you crave a meat-like consistency this product might work for you. In terms of taste, the BBQ flavour is a 6/10. I won't be buying it again.
Date published: 2018-11-29
Rated

4

out of

5
by
Queena
from
Barbecue sauce is a tad too sweet, but there is a slight heat to it. Good for tacos in a pinch! Enough for moderate portion sizes for 2.
Date published: 2018-05-02
Rated

5

out of

5
by
CB
from
Never disappoints
Great for a quick healthy meal! Can be used for a sandwich, salad topping, side dish - so many options!
Date published: 2020-09-16
Rated

1

out of

5
by
Jessica07
from
Doesn't taste like bbq
The texture is there but it tastes like vinegar. You're better off to make it yourself
Date published: 2020-05-07