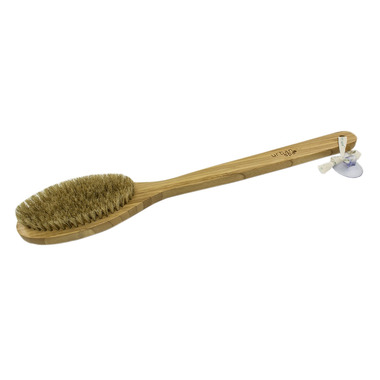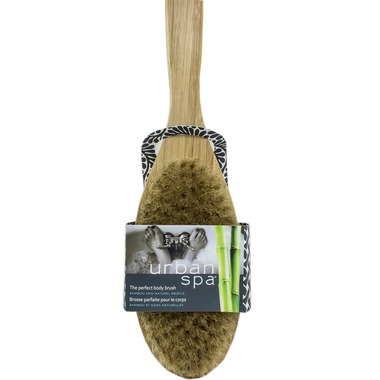 Urban Spa Stimulating Body Brush
is rated out of
5
by
67
.
---
Description
The stimulating body brush revitalizes the skin and improves circulation with all-natural bristles. The long wooden handle is perfect for reaching difficult spots.
Highlights

Rated

4

out of

5
by
Michelle
from
I love this brush for the natural bristles and the wood. The key to keeping the wood from cracking is to keep it dry after use and not store it in a wet environment (like a shower). I also like the nail brush. It has a hand top row of bristles for gently cleaning under my nails. The only issue is that after a while some of the bristles do fall out. But I am willing to accept that because they are natural and stuck right into the wood -not glued on to a plastic piece like I have experienced with a brush I bought at Shoppers.
Date published: 2010-04-05
Rated

5

out of

5
by
Natalia
from
Perfect price and perfect investment for dry brushing to improve your skin texture against cellulitis and light exfoliation. Tip: Apply a touch of your favourite organic aromatherapeutic body massage oil before showering. Always dry brush towards the direction of your heart. After: Shower or bathe and hydrate your skin with lotion or body oil. Et voila! You feel like you had a Spa treatment at home. :-)
Date published: 2012-07-15
Rated

5

out of

5
by
Beatrice
from
I bought two, one for my husband and one for me. I have used it as a dry brush before every shower and have found it very effective. You don't have to be scratched to feel good. It is firm enough that if you press too hard you could scratch yourself. Since using it I have not had to use much lotion and skin flakes are not very visible anymore! I recommend it, it is a healthy habit. Go on line to get directions on how to brush your whole self, that's important and ensures results!
Date published: 2016-09-16
Rated

5

out of

5
by
Grace
from
I first saw this brush online and decided to give it a try. I have been using for a month now and it had become routine. I love the firm and yet soft to th touch bristles. I am 5.2" and love the handle size. Not too long and not too short. I also love the suction cup at the end so it makes it ease to store. Just ordered another one for my place in Florida.
Date published: 2017-05-18
Rated

5

out of

5
by
Jason
from
Great for dry skin brushing! I'm not sure what dani is talking about, because I detach and attach this all the time with no effort. It has all natural bristles which are important for dry skin brushing. I got mine a year ago and it's still in perfectly good shape
Date published: 2009-09-15
Rated

3

out of

5
by
Lina
from
Honestly I really like this brush for exfoliating in the shower, and really like that it has the suction cup. However! It is just not durable. The hairs are matting down at the edges where there's more pressure when you scrub, and this exposes the hard wood edge which is painful. I've been using this for less than a month so it doesn't seem reasonable for the price-tag.
Date published: 2014-04-08
Rated

5

out of

5
by
aatracey719
from
Just what I needed!
I bought this as I needed something to help scrub my back with - with all the stress of the last year + I have been breaking out all over and needed something to be able to scrub better and easier. This works so great. It is well built & the suction cup is perfect for hanging in my shower to ensure it stays clean and dries. Would definitely recommend!
Date published: 2021-02-09
Rated

1

out of

5
by
Joyce
from
Really disappointed.
The brush is shedding very badly. The picture is the first time you use it. After taking a shower, my skin is red and itchy, similar to an allergic condition, and it has a serious odor. I have received it for two days, Hope the smell can be better, but it still smell bad.
Date published: 2020-12-30