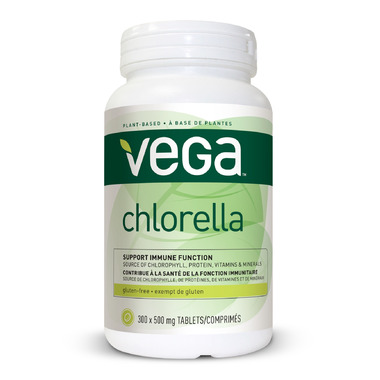 Description
Support immune function with premium Vega Chlorella. Extensively researched in Japan for many of today's key health concerns, chlorella is unicellular, microscopic, fresh-water green algae, power-packed with nutrition and developed to deliver:
Chlorella Growth Factor (CGF)
Complete protein
Antioxidant carotenoids
Vitamins and minerals, especially vitamins A, D, and iron
Boasting the highest concentration of chlorophyll of any known plant, chlorella has earned its reputation as the ultimate green superfood supplement.
Grown outdoors in rich, spring-fed freshwater ponds on pristine, subtropical Japanese coral islands, Vega Chlorella's cell walls are high-pressure jet sprayed to achieve optimum digestibility.
Recommended Dose (adults):
5 tablets daily, or as directed by a health care practitioner. Keep in a cool, dry place with lid tightly closed.
Non-Medicinal Ingredients:
Tricalcium phosphate. Contains 72 mg of chlorophyll and 11 mg of lutein per dose.
Highlights

Shipping & Returns