Veggie Go's
Veggie Go's Chewy Fruit and Veggie Strip Berry, Apple and Spinach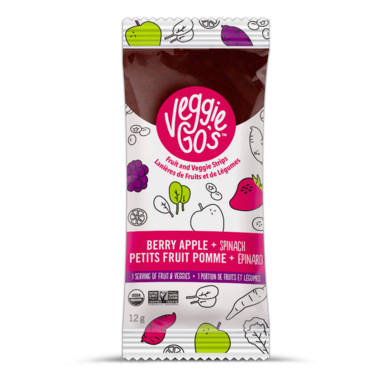 Veggie Go's
Veggie Go's Chewy Fruit and Veggie Strip Berry, Apple and Spinach
Description
A combination of spinach and sweet potato with assorted fruit. There is 1 serving of fruit and vegetables contained in each of these bars.

Features:

1 strip contains approx. 1/2 cup of fruit and veggies
100% Certified Organic
Non- GMO Certified
Less than 20 calories per bar
Gluten Free
Kosher
Ingredients: Organic Apple Puree, Organic Spinach Puree, Organic Strawberry Puree, Organic Raspberry Puree, Organic Blueberry Puree, Organic Sweet Potato Puree.
Highlights

Shipping & Returns