Virage Sante Pedi-Biotic Powder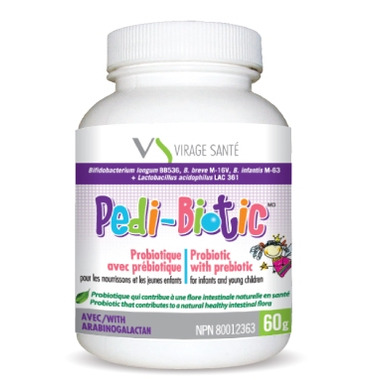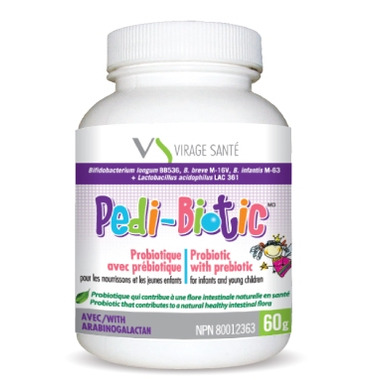 Virage Sante Pedi-Biotic Powder

Virage Sante Pedi-Biotic Powder contains probiotics especially adapted for infants and young children.

Medicinal ingredients (per dose):
Bifidobacterium longum

BB536 : 700 billions CFU

Bifidobacterium breve

M-16V: 500 billions CFU

Bifidobacterium infantis

M-63: 500 billions CFU

Lactobacillus acidophilus

LAC 361 : 1 billion CFU
Non-medicinal ingredients: Maltodextrin (not from GMO corn), arabinaglactan.
Properties: Highly water-soluble tasteless powder. Strains resistant to stomach acidity and bile. Stable at room temperature for over two years
Dosage (for Children and Infants): Dilute one half teaspoon with a bit of water. Take one to two time daily, as needed or the recommendations of an health care practitioner. Take on an empty stomach.
Indications:
Acute diarrhea and due to rotavirus

Antibiotic induced diarrhea (prevention and treatment)

Immune system

Infant colic

Infant diarrhea

Prevents general infections, contagion

Prevention of allergies, eczema and atopy

Suitable for diabetics
Please be advised that Well.ca follows manufacturer guidelines for storing & shipping probiotics.