Vitality Dog
Vitality Dog Grain Free Liver with Harvest Pumpkin Dog Treats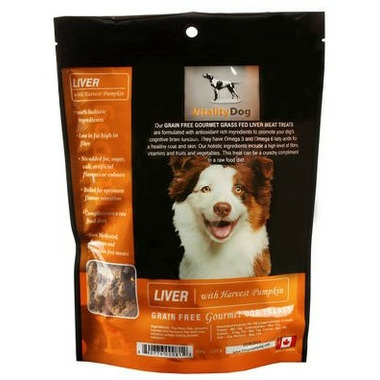 Vitality Dog
Vitality Dog Grain Free Liver with Harvest Pumpkin Dog Treats
Description
Pumpkin to aid in digestion and add super nutrients. It is antioxidant rich and full of beta-carotene. Pumpkin is also an excellent source of potassium, zinc, Vitamin A and Vitamin C. Blackstrap molasses is high energy, low calorie, and an excellent source of copper,manganese, iron, and calcium. It is also a good source of potassium, magnesium and a variety of important trace minerals.And liver because dogs love liver!
Features:
Finest human grade ingredients
No salt, fat or sugar added
Process is simple: mix, roll and cut by hand and bake then dry
Low in fat
Free range
Antibiotic and hormone free
Grass or grain fed
Ingredients: Pea Flour, flax, pumpkin, injection and hormone free beef liver, molasses, potato, cinnamon, baking power.
Nutritional information: (Guaranteed Anylsis: Per 100g)

Crude Protein- Min 19g
Crude Fibre-Min10g

Crude Fat- Max 15g

Carbohydrates- Max 47g
Moisture- Max 6% Ash-Max .38g
Sodium-Max .21g

Highlights

Shipping & Returns