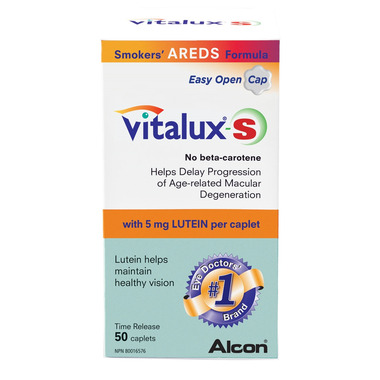 Description
If you have age-related macular degeneration (AMD) and you smoke, or if you recently quit smoking, beta-carotene-free Vitalux-S may be appropriate for you.
Vitalux-S is identical to the Vitalux AREDS formula, but without beta-carotene. Vitalux-S is specifically formulated for smokers and recent ex-smokers with the AREDS ingredients shown to delay the progression of age-related macular degeneration and maintain healthy vision.
Like Vitalux AREDS, Vitalux-S contains:
Vitamins C and E, plus minerals zinc and copper
Lutein and zeaxanthin, with 10 mg of lutein per daily dose
Directions: Adults: Take 2 caplets per day with a meal or as directed by a health care practitioner. Take a few hours before or after taking other medication. Do nut crush the caplets.
Medicinal ingredients:
(3R,3'R,6'R)-beta,epsilon-Carotene-3,3'-diol 5.0 mg, Copper 1.0 mg, Vitamin C 250.0 mg, Vitamin E 134.0 mg AT, Zinc 40.0 mg
List of non-medicinal ingredients: Calcium Silicate, Caramel colour, Carnauba Wax, Ethyl Vanillin, Hydroxypropylcellulose, Hypromellose, Microcrystalline cellulose, Titanium dioxide, Vegetable magnesium stearate, Vegetable stearic acid, Water

Contains no salt, gluten, lactose, artificial colours or flavours.
Precautions:
Zinc zupplementation can cause copper deficiency. Consult a health care practitioner if experiencing decreased vision or if you are taking tetracyclines. Consult a health care practitioner prior to use if you have cancer, cardiovascular disease or diabetes. May cause gastrointestinal distress. This product has come into contact with soy, fish and sulphites. Do not use this product if you are allergic to soy, fish or sulphites.
Shipping & Returns