Viviscal Hair Nourishment System
Extra Strength
60 Tablets
Viviscal Hair Nourishment System
is rated out of
5
by
1
.
Viviscal Extra Strength hair vitamin supplements for women nourishes thinning hair and promote existing hair growth from within.*
Everyday stress, hormonal changes, poor nutrition, age, menopause, post-pregnancy, heredity, medication and damage caused by the environment and overstyling can impact the health of your hair and lead to breakage and excess shedding. Therefore, it's important to ensure that the hair and scalp are healthy, conditioned and nourished to maintain the ideal environment for healthy hair growth.*
At Viviscal, we understand hair. The Viviscal Hair Growth* and Hair Care Programs provide a variety of ways to nourish your hair from the inside out, and the outside in. Viviscal Extra Strength dietary supplements supply vital nutrients to the hair follicle to prolong the anagen (growing) phase of the hair growth cycle, nourishing thinning hair and promoting hair growth.*
Healthy hair starts from within. If your diet lacks specific nutrients, including vitamins, minerals or protein, it can affect the condition and strength of your hair. Viviscal Extra Strength dietary supplements contain the exclusive marine complex Amino Mar C™ as well as Iron, Niacin, Biotin, Zinc, Vitamin C and Horsetail Extract to nourish hair from within. Viviscal Extra Strength has been scientifically proven to nourish thinning hair and promote existing hair growth.*
Use Viviscal Extra Strength hair growth* supplement as part of the complete Viviscal range, which provides a unique two-dimensional hair care system fusing the best of both worlds. Viviscal offers scientifically formulated products that promote healthy hair growth* from the inside (Viviscal Extra Strength dietary supplements) plus gorgeous hair on the outside (Densifying Elixir, Densifying Shampoo and Densifying Conditioner), and even provide instant coverage for thicker looking hair (Conceal & Densify Volumizing Fibers).
Features:
100% drug free
New formula! Now with 50% more Amino Mar CTM Marine Complex, Iron, Niacin, Biotin and Zinc
Contains some ingredients of natural origins
Nourishes thinning hair and promotes existing hair growth from within*
Surgery-free, easy-to-use solution for hair growth*
Scientifically proven to improve hair thickness and reduce shedding within 3-6 months++*
93% of customers would recommend Viviscal Extra Strength to a friend+++
Suitable for all hair types


Recommended daily intake:

Adults: Take one tablet, two times per day. Take with food, a few hours before or after any medications. Viviscal tablets are easy to swallow.

Contraindications:

Do not use if you are allergic to fish. This product has been in contact with soy. Do not take this product if allergic to soy.
Not intended for use by pregnant or nursing women or by any persons under the age of 18. If you are taking medications, consult your doctor or health professional before use.

Featured Ingredients:

Amino Mar: The groundbreaking, clinically-proven marine complex available exclusively in Viviscal supplements. Derived from key marine protein molecules combined with a blend of Horsetail (Stem) Extract and naturally occurring Silica, it provides essential nutrients needed to promote existing hair growth from within.
Iron: An essential mineral that has several important roles in the body, Iron helps to make red blood cells, which carry oxygen around to cells in the body, including hair follicles. Thinning hair can be one of the visible symptoms of anemia (Iron deficiency).
Biotin: Also known as Vitamin H, it is a water-soluble Vitamin B complex (Vitamin B7) that helps the body to metabolize carbohydrates, fats and amino acids, which are the building blocks of protein and thus essential in the formation of the hair structure.
Vitamin C: A powerful antioxidant that helps to absorb more Iron into the blood, which in turn promotes hair growth. Vitamin C in Viviscal supplements is sourced from the acerola cherry.

Allergy advice: Contains fish and shellfish, not recommended for those allergic to fish, shellfish or seafood. Warning: Dietary supplements should not replace a balanced diet. Children, pregnant or breastfeeding women and those who have recently had a heart attack, surgery or major accident should not consume this product without medical advice. If symptoms persist consult your healthcare practitioner. Use only as directed.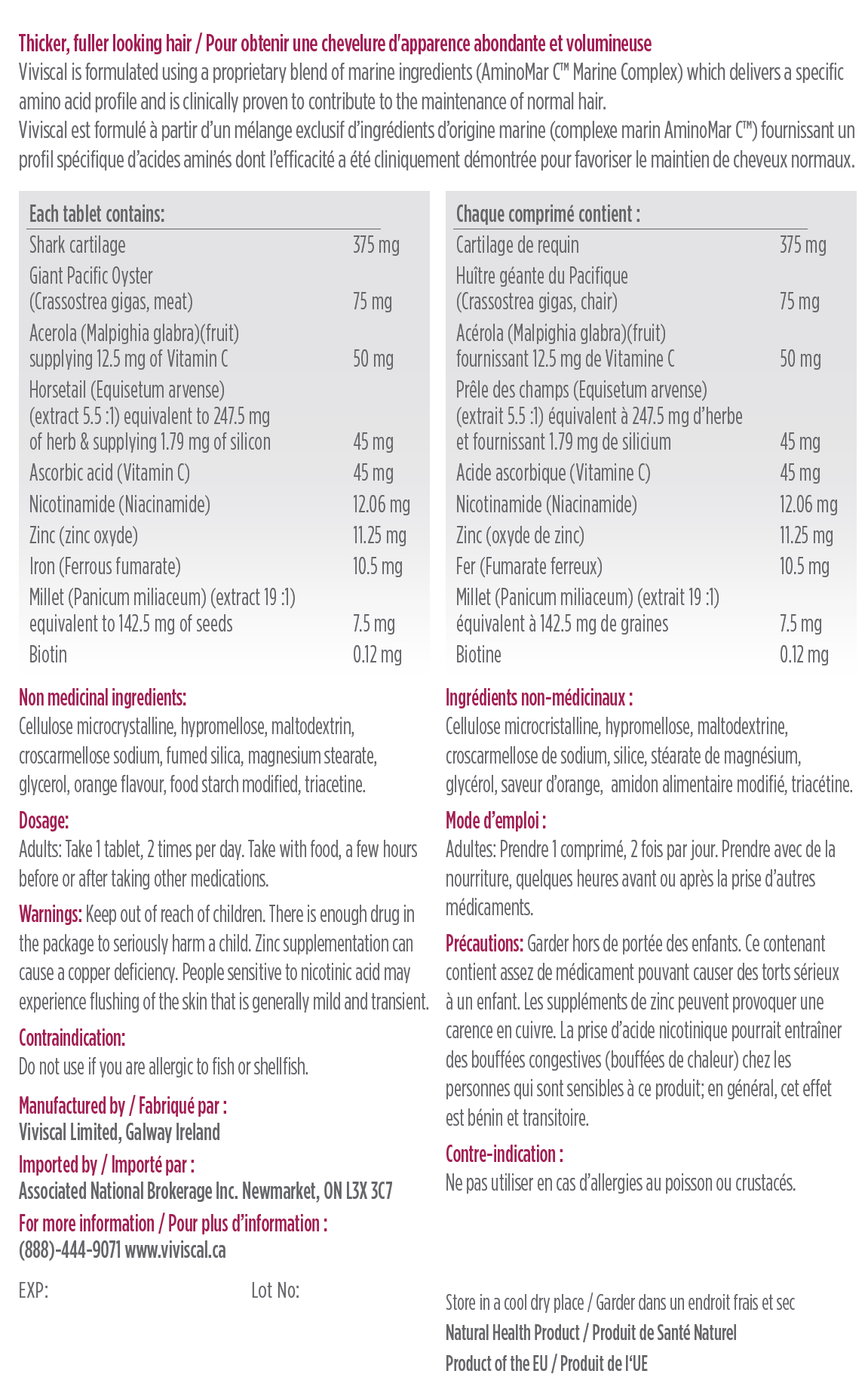 Similar Hair Regrowth, Loss & Vitamins
Rated

4

out of

5
by
Sharon
from
Was taking Visical on Doctor's recommendation for hair thinning at temples. Noticed less hair loss and hair appears thicker. Now you say it has been discontinued and I ask WHY?
Date published: 2021-04-11