Walter All-Natural Craft Caesar Mix Vegan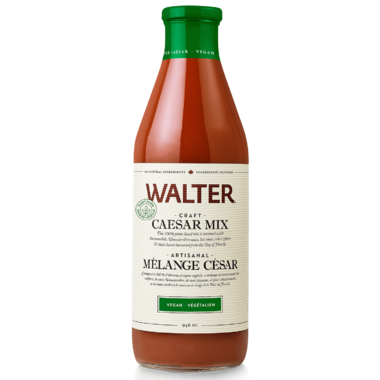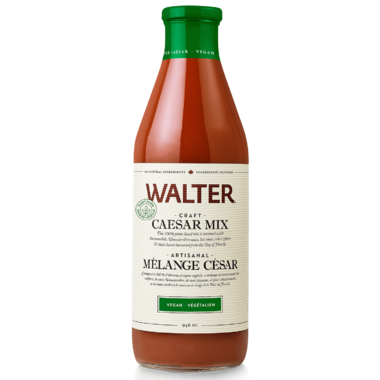 Walter All-Natural Craft Caesar Mix Vegan
There's no clam juice in Walter Vegan Craft Caesar Mix. Instead, Walter uses dulse (edible seaweed) hand-harvested from the Bay of Fundy to impart a taste of the sea while being completely plant-based. And as with all Walter Craft Caesar products, this mix is proudly made here in Canada using only premium all-natural ingredients without the use of any artificial colours, flavours, preservatives or high-fructose corn syrup.

Features:
Spice level: 3/5
Vegan (100% Plant-Based)
No Artificial Colours, Flavours, Preservatives or High-Fructose Corn Syrup
Gluten-Free
Proudly Made in Canada in Small Batches
Canadian Owned & Operated Company
Ingredients:
Water, Tomato paste, Organic cane sugar, Concentrated Lemon Juice, Sea salt, Organic tamari (water, organic soybeans, salt), Organic Vinegar, Spices, Onion powder, Garlic powder, Hot pepper sauce (vinegar, red pepper, salt), Horseradish powder, dehydrated dulse.
THE CAESAR – A Brief History
A unique Canadian invention, the Caesar was first developed in Calgary, Alberta by bartender Walter Chell in 1969. Chell spent months creating the drink, drawing inspiration from the classic pasta dish, Spaghetti Vongole. An instant hit with patrons, The Caesar was born and is now the most popular cocktail in Canada - in fact, Canadians drink 350 million Caesars every year!
THE "CLASSIC" WALTER CAESAR
1 oz vodka
5 oz Walter Craft Caesar Mix (Classic Spice)
1 squeeze fresh lime juice
rim: Walter Craft Caesar Rim
garnish: candied bacon, pickled bean, lime wedge
optional: add fresh grated horseradish

SOUTHERN CAESAR
1 oz tequila (or mezcal)
5 oz Walter Craft Caesar Mix (Classic Spice)
0.5 oz orange or pineapple juice
2 dash hot sauce
1 dash Worcestershire sauce
1 squeeze fresh lime juice
rim: Walter Craft Caesar Rim
garnish: lime wedge, salt / peppered tomato wheel

PACIFIC RIM CAESAR
1 oz gin (sake, soju, vodka also work well in this recipe)
5 oz Walter Craft Caesar Mix (Mild Spice)
1 bar spoon Sriracha hot sauce
1 dash soy sauce
small pinch ginger powder
1 squeeze fresh lemon juice
rim: Walter Craft Caesar Rim
garnish: anything seafood (grilled prawn, scallop), lemon wedge

CANADIANA CAESAR
1 oz vodka
5 oz Walter Craft Caesar Mix (Mild Spice)
1 bar spoon maple syrup
1 dash hot sauce
2 dash Worcestershire sauce
1 squeeze fresh lime juice
rim: coat rim in maple syrup (or honey), dip in Walter Craft Caesar Rim
garnish: candied bacon, candied salmon, lime wedge