Webber Naturals Femme Calm Hair Skin & Nails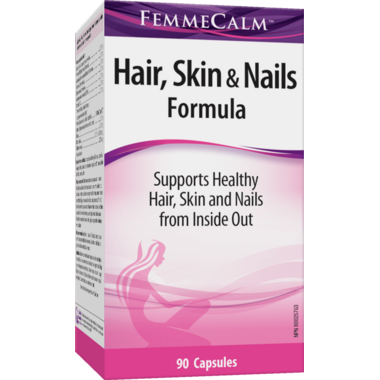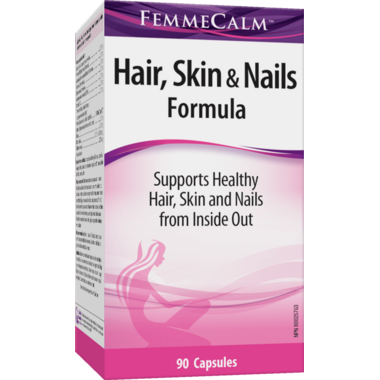 Webber Naturals Femme Calm Hair Skin & Nails
FemmeCalm Hair, Skin & Nails provides protective antioxidants and essential nutrients such as keratin, a key protein needed for radiant skin, smooth, shiny hair, and healthy nails. This innovative formula includes B vitamins, beta-carotene, lycopene, lutein, and other vital nutrients to guard against damage associated with sun, stress, and environmental toxins.
Provides essential nutrients to promote healthy hair, skin and nails from the inside out

Contains Brewer's Yeast, a natural source of protein, B-complex vitamins, and minerals

Includes L-Cysteine and keratin, important building blocks for strong hair and nails and firmer skin

Encourages healthy repair and growth of hair, skin, and nails

Supplies antioxidants and nutrients to protect skin from free radical and UV damage
Directions:

Recommended dosage (adults): 1 capsule 2 times daily with meals or as directed by a physician. Consult a physician for use beyond 6 months.
Ingredients:

Each capsule contains: Dried Yeast (Saccharomyces cerevisiae) 150 mg Vitamin B1 (thiamine hydrochloride) 90 mg Pantothenic Acid (calcium d-pantothenate) 90 mg L-Cysteine (hydrochloride) 30 mg Hydrolyzed Animal Keratin 30 mg Para-Aminobenzoic Acid (PABA) 30 mg Lycopene 5% From 30 mg Tomato Extract 1.5 mg (Lycopersicon esculentum) (fruit) Vitamin E (d-alpha tocopheryl succinate) 10 IU (6.7 mg AT*) Lutein (Tagetes erecta) (marigold flower) 1.5 mg Biotin 1.25 mg Beta-Carotene 2000 IU (1200 mcg) Selenium (yeast) 37.5 mcg *Alpha Tocopherol

Caution:

Consult a physician prior to use if you are pregnant or breastfeeding, or if you are taking sulfonamides. Hypersensitivity (e.g., allergy) has been known to occur, in which case discontinue use. Do not use if you are allergic to plants of the Asteraceae/Compositae/Daisy family. Keep out of reach of children.
Free of artificial colours, preservatives or sweeteners; no dairy, egg, fish, shellfish, salt, tree nuts or GMOs. Canadian Brand